Hot Stock Pick No. 1 – The Liberty Braves Group (BATRA)
The Liberty Braves Group, through its subsidiary, Braves Holdings owns the Atlanta Braves,stadium, and mixed-use development project. The company is based in Englewood, Colorado and is a subsidiary of Liberty Media Corporation.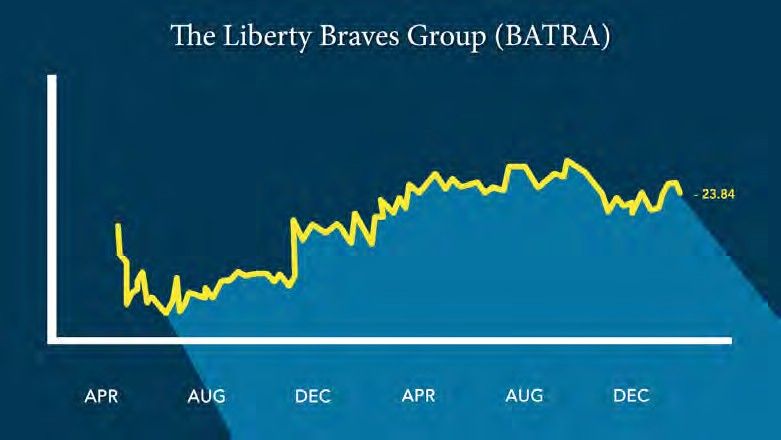 According to Mario Gabelli:
"Liberty Braves has about 58.5 million shares outstanding. At $22 apiece, the market cap is $1.3 billion. This is a small cap stock. Based on prices paid for other sports teams, coupled with the stadium and the Battery Atlanta, a mixed-used property, the company could be worth $35 in two years," as quoted by Barron's.
Screw Up All Of Your Trades And Still Bank Monthly Gains

The Perfect Trading Strategy for risk-averse conservative traders who want consistent, predictable and reliable weekly and monthly income from trading stocks… even when… they are 100% WRONG on every trade. Over a recent 30-day period, a well-known trader used this conservative trading technique to earn a substantial $13,241.50. He explains everything (and shows you the PROOF) in his just-released video report. I won't leave this video up forever. So watch now because you're about to discover some things about active trading for weekly and monthly income you've never seen before.
In its most recent quarter, BATRA posted a 70% increase in total revenue to $185 million thanks to an increased in ballpark operations driven by the Braves' move to Sun Trust Park. Ticket sales, suites and premium seat fees all increased for the third quarter. Even more interesting, Gabelli and GAMCO Investors increased their stake to 7.74% in September 2017.
Technically, the stock has been in a solid sustainable uptrend since May 2017. After finding triple bottom support just under $22 in recent months, we believe the stock could resume its uptrend with a long-term price target of $35 a share.
Hot Stock Pick No. 2 – Applied Materials (AMAT)
Trading at less than growth with a PEG ratio of 0.75, Applied Materials provides manufacturing equipment, services, and software to the semiconductor, display, and related industries worldwide. It operates through three segments: Semiconductor Systems, Applied Global Services, and Display and Adjacent Markets. The Semiconductor Systems segment develops, manufactures, and sells a range of manufacturing equipment used to fabricate semiconductor chips or integrated circuits. It offers products and technologies for transistor and interconnect fabrication, including epitaxy, ion implantation, oxidation and nitridation, rapid thermal processing, physical vapor deposition, chemical vapor deposition, chemical mechanical planarization, electrochemical deposition, atomic layer deposition, etching, and selective removal, as well as metrology and inspection tools.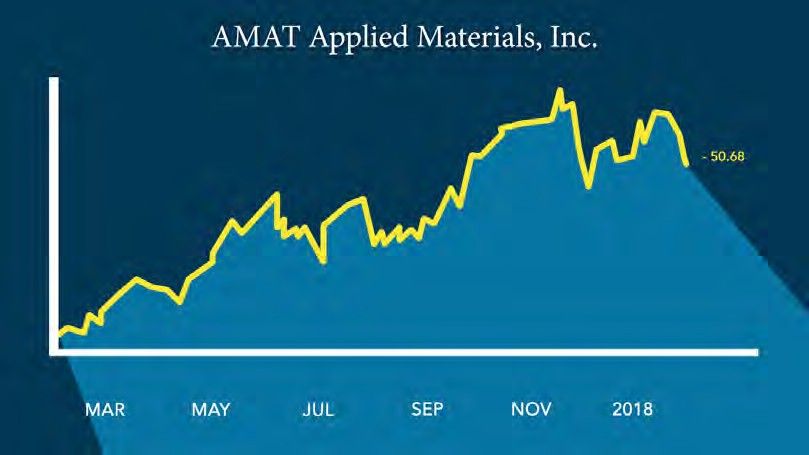 The Applied Global Services segment provides integrated solutions to optimize equipment and fab performance and productivity, including spares, upgrades, services, remanufactured earlier generation equipment, and factory automation software for semiconductor, display, and other products. The Display and Adjacent Markets segment offers products for manufacturing liquid crystal displays, organic light-emitting diodes, and other display technologies for TVs, personal computers, electronic tablets, smart phones, and other consumer-oriented devices, as well as equipment for flexible substrates. The company serves manufacturers of semiconductor wafers and chips, liquid crystal and organic light-emitting diode displays, and other electronic devices.
According to William Priest:
"Applied Materials is a leading semiconductor equipment manufacturer. It is at the center of all these powerful trends we've been talking about today – artificial intelligence, the growing impact of technology across industries. The company is continuing to gain market share. Shares trade for $52, or 13 times our 2018 cash-flow estimate of $4 a share. By 2020, Applied Materials could be generating close to $6 a share, and the stock could be trading for $80 to $85."
Interesting to note, President and CEO Gary Dickerson recently told CNBC, "There's never been a better time to be an investor" in his company's history. "The future of competition is going to change. A.I. and big data are transforming major industries. We see this in retail today, health care, transportation, many, many, many different areas. And at the foundation of that technology is Applied Materials with materials innovation."
In fact, according to Forbes:
"AI will increase economic growth by an average of 1.7% across 16 industries by 2035 with Information and Communication, manufacturing and financial services leading all industries. Accenture Research found that the Information and Communication industry has the greatest potential for economic growth from AI. Integrating AI into legacy information and communications systems will deliver significant cost, time and process-related savings quickly. Accenture predicts the time, cost and labor savings will generate up to $4.7T in GVA value in 2035. High growth areas within this industry are cloud, network, and systems security including defining enterprise-wide cloud security strategies."
In case you're new to artificial intelligence, it simply involves software programs that try to mimic the human ability to learn, reason and make decisions on its won. It all needs computing power, which is provided by semiconductor chips. The more demand for chips, the higher the likelihood we'll see upside in related stocks like AMAT. Even more exciting, the A.I. industry could reach a compound annual growth rate of 17.2% by 2023. Plus, analysts believe the industry could balloon to $14.2 billion over the next six years from just $525 million in 2015. By 2025, the technology could have the potential to increase productivity by 40% ore more.
We can also make a strong argument for AMAT, given recent earnings.
In its fourth quarter, the company posted revenues of $3.97 billion, a 20% year over year jump. It also expanded its bottom line by 63% to 91 cents per share. For the full year, the company increased sales 34% to $14.54 billion. EPS soared to $3.17 a share on operating income of $3.87 billion, too.
According to Dickerson:
"We have great momentum and we're confident that in 2018 we can deliver strong double- digit growth across our semiconductor, display and service businesses. This is the most exciting time in the history of the electronics industry. AI will transform entire industries over the coming years, creating trillions of dollars of economic value, and Applied is uniquely positioned to deliver the innovative materials needed to enable next-generation memory and high-performance computing."
We believe the stock could rally to $60 a share, near-term.
Hot Stock Pick No. 3 – Hi-Crush Partners (HCLP)
Hi-Crush Partners produces, transports, markets, and distributes monocrystalline sand in the United States. The monocrystalline sand is a mineral that is used as a proppant to enhance the recovery rates of hydrocarbons from oil and natural gas wells. It owns, operates, and develops sand reserves, and excavation and processing facilities, which include 1,447-acre facility with integrated rail infrastructure, located near Independence, Wisconsin, and Whitehall, Wisconsin; 971-acre facility with integrated rail infrastructure, located in Wyeville, Wisconsin; the Augusta facility situated in Eau Claire County, Wisconsin; and the Blair facility. The company offers raw frac sand used in hydraulic fracturing operations for oil and natural gas wells. It primarily serves pressure pumping service providers.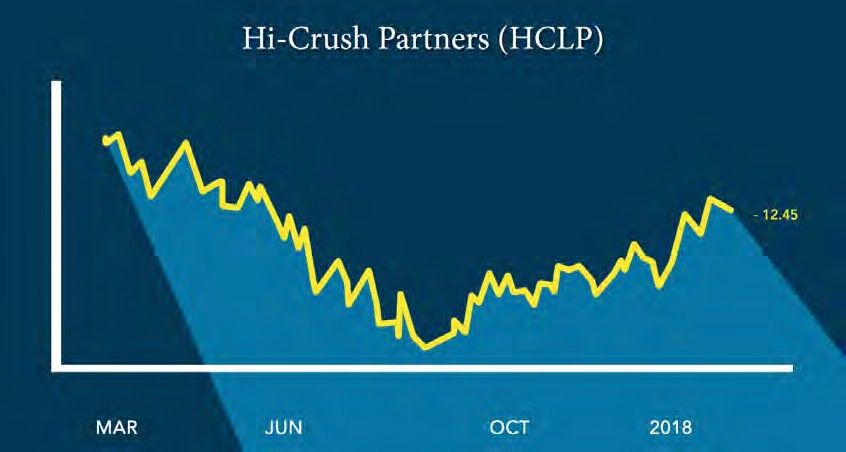 According to Scott Black:
"There are 92 million fully diluted shares outstanding, and the market cap is $1.05 billion. The company pays a 60-cent dividend per share and yields 5.3%. It is a limited partnership. Earnings are rising, and you get paid while you wait. Hi-Crush mines sand in Wisconsin and at its new Kermit facility in the Permian Basin. It is the industry leader. Last year. it mined 8.8 million tons, or 11% of the industry total. This year, it will have a 13% share.Revenue could total $878 million.We calculate operating income of $191 million, interest expense of $11 million, and profit before taxes of $180 million. Our earnings estimate for the year is roughly two bucks. The Street is higher at $2.28."
What's really exciting is the company's involvement in the Permian Basin.
The Permian Basin alone is offering us substantial opportunity, as oil companies have reportedly shifted their attention on drilling in the Permian given a higher rate of return. In fact, Exxon Mobil just announced it would triple production in the Permian Basin by 2025. It has plans to increase total daily production in the region by 600,000 barrels of oil equivalent. And it expects for oil production to increase five-fold in the region, too.
"Our geographic and competitive advantages in the Permian position the company for strong growth and long-term value creation," Sara Ortwein, president of Exxon's shale oil and gas subsidiary XTO Energy, as quoted by CNBC. "We can deliver profitable production at a range of prices, and we have logistics and technology advantages over our competitors."
Even analysts at RBC Capital Markets believe that exploration and production money flow will continue to push into North America, especially into the Permian Basin.
"The firm also sees improving investor sentiment for U.S. exploration and production companies as oil prices firm. It's forecasting that cash flow per share in the sub-sector will increase by 30%, debt-adjusted production will jump by 20% and spending will move up by 11%. Its favorite stocks are Parsley Energy and RSP Permian."
In its most recent quarter, the company's revenue jumped from $167.5 million from $46.5 million year over year. EBITDA increased to $41.8 million from a loss of $3.4 million. And EPS increased from a loss of 21 cents per share to a gain of 32 cents per share.
According to CEO Robert Rasmus:
"The impressive third quarter performance we announced today is a direct result of our Mine. Move. Manage. operating strategy, and is underpinned by ongoing strength in oil and gas completions activity in the U.S. Over the last several months, we completed several critical projects, including the construction and commencement of operations atour Kermit facility and Pecos terminal in the Permian Basin. These projects enhance and extend our ability to service customers through our growing and integrated production and logistics network. Our sales volumes improved to approximately 2.5 million tons for the third quarter, in-line with guidance, and marking the highest quarterly volumes recorded in Hi-Crush history."
We believe the stock could rally to $16, near-term.
Hot Stock Pick No. 4 – Evertec Inc. (EVTC)
EVERTEC, Inc. and its subsidiaries engage in transaction processing business serving financial institutions, merchants, corporations, and government agencies in Latin America and the Caribbean. The company operates through three segments: Merchant Acquiring, Payment Processing, and Business Solutions. The Merchant Acquiring segment provides merchant acquiring services, which enable point of sales and e-commerce merchants to accept and process electronic methods of payment, such as debit, credit, pre-paid and electronic benefit transfer (EBT) cards. The Payment Processing segment offers payment processing services that enable financial institutions and other issuers to manage, support, and facilitate the processing for credit, debit, prepaid, automated teller machines and EBT card programs.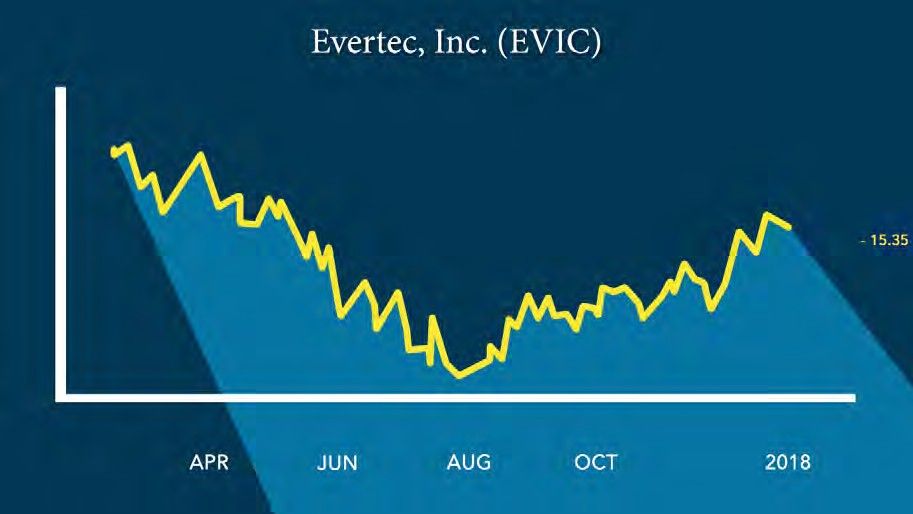 According to Oscar Schafer:
"Half of the company's revenue is generated from bank processing a IT services, which weren't impacted by the storm [Hurricane Maria]. As of October, credit and debit processing services were back to 70% of pre-storm levels. I am hopeful that rebuilding efforts will provide some much-needed stimulus to the local economy. Evertec should continue to benefit from increased penetration of electronic payments, as management pursues an acquisition strategy across the region. At the end of the day, Evtertec remains a highly resilient business with a dominant share in critical service. The stock, trading at a modest nine times cash flow, or $14 a share, is comparable to companies that command more than 20 times cash flow. We see 100% upside in three years."
Unfortunately, thanks to the storm, the company did temporarily suspend the dividend.
According to President and CEO, Mac Schuessler:
"Due to the challenging conditions in Puerto Rico, our financial outlook for 2017 has been lowered. The Company's Board of Directors has determined that it is prudent to temporarily suspend the dividend until our business stabilizes and also extended our stock repurchase program to maintain capital allocation flexibility in the years ahead. We are committed to supporting our customers and our community as Puerto Rico rebuilds and we remain focused on our integration of PayGroup and the opportunities ahead…"
However, based on Oscar Schaefer's argument, crisis may have created a sizable opportunity in shares of EVTC. While the stock did fall sharply in September 2017 following storm impact, it appears it may have priced in a good chunk of negativity. In fact, in recent weeks, the stock has begun to rebound well off a low of $13 to a current price of $15.50.We believe the stock could rally back to $17, near-term.
Hot Stock Pick No. 5 – Marvell Technology Group Ltd. (MRVL)
Marvell Technology Group Ltd. designs, develops, and markets analog, mixed-signal, digital signal processing, and embedded and standalone integrated circuits. It offers a range of storage products, such as hard disk drive (HDD) and solid-state drive controllers, as well as HDD components, such as HDD preamps components; and develops software enabled silicon solutions consisting of serial advanced technology attachment port multipliers, bridges, serial attached SCSI, and non-volatile memory express redundant array of independent disks controllers and converged storage processors for enterprise, data centers, and cloud computing businesses.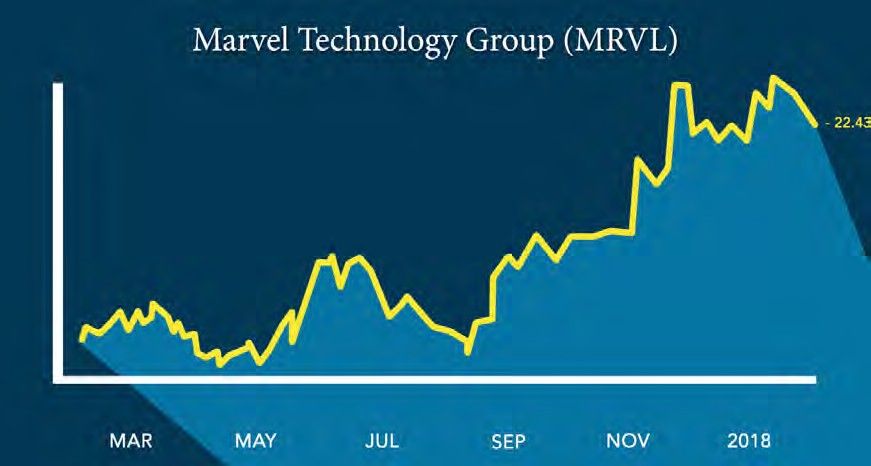 The company also provides networking products comprising Ethernet solutions comprising Ethernet switches, Ethernet physical-layer transceivers, and single-chip network interface devices; and embedded communication processors.
According to Paul Wick:
"Marvell had a management change a year and a half ago. The founding CEO was pushed out, along with his wife. They were optimistic about a lot of research-and-development projects, and they had a lot of dry holes, including a baseband processor business into which they sunk hundreds of millions of dollars and got nothing in return. Rick Hill took over as chairman of the board and brought in a capable CEO, Matt Murphy, from Maxim Integrated [MXIM]. In just two years Marvell's gross margin has gone from 53% to 61%. The R&D spending that had been 36% to 40% of revenue is now 30%. And the operating profit margins, which had gotten as low as single digits, are now back up in the high-20% area. It has been a pretty solid turnaround. They've divested some unprofitable businesses and executed well."
"One thing we like about Marvell, in addition to the fact that the company has turned its business around, is that it is buying Cavium [CAVM]. Cavium has been one of the best network processor companies in Silicon Valley. It has processors for wireless infrastructure equipment, security firewall appliances, and enhanced security of data centers. Cavium has a fast-growing ARM microprocessor family called Thunder X that has gained traction at a few cloud customers. The company has ethernet switch chips, and a year and a half ago, it bought QLogic, which gave it ethernet and fiber channel adapters. That will be synergistic with Marvell's storage-related business. Marvell has $1.7 billion or $1.8 billion of cash, and is paying about $5 billion for Cavium—half cash and half stock. It ended up taking on debt, but it is manageable. Earnings per share for calendar 2019 could be in the neighborhood of $2. The stock should trade for between 15 and 20 times earnings, so that puts the price of Marvel at $30 to $40 a share a year or so from now."
Even analysts at Piper Jaffray are bullish on the MRVL stock
In fact, the firm just initiated coverage on the stock with an Overweight rating, noting that the company still has "significant room in its turnaround story" with its hard-disk drive and solid-state business likely to become a "significant growth driver for the company," as quoted by Barron's.
Analysts at Key Banc Capital Markets seem bullish, too.
The firm has an Overweight rating on the stock with a price target of $29 from $25 based on several catalysts. For one, there's improved strength in connectivity. There are lower operating expenses. Better yet, in it most recent quarter, the company beat expectations on the top and bottom lines, and issued great guidance that beat the forecast as well. In fact, it posted adjusted earnings of 34 cents per share on revenue of $616 million.
Plus, as noted by Benzinga:
"NAND supply is expected to improve in early 2018, which will benefit Marvell's supply- constrained customers, and SSD controllers are expected to account for 30 percent of storage in the fourth quarter, the analyst said. This would be favorable for Marvell, as SSD controllers are a higher-margin product and reduce the company's exposure to the secularly declining HDD market."
We believe shares of MRVL could run to $30, near-term on the above catalysts.