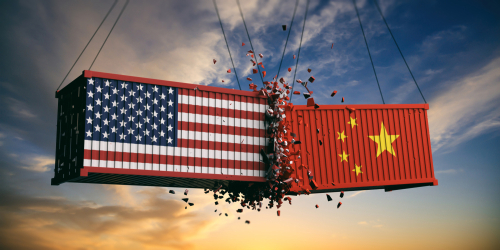 Yield curve flattens following Fed's rate cut.
Bond yields fell following the quarter-point cut in interest rates by the Federal Reserve on Wednesday and trade war fears from a tweet by President Trump on Thursday. The 10-Year yield fell to 1.8 percent.
The 2-percent threshold has long been a key psychological point for investors. With inflation rates running near 2 percent, bond yields look quite low—but still have the ability to move lower.
Special:
The Only 8 Stocks You Need for 2020
Other points in the yield curve also moved lower, but overall the curve flattened as investors bought bonds on trade war fears.
A flattened yield curve indicates slowing economic growth, whereas an inverted curve, where short-term bond yields are higher than long-term yields, is a strong indicator of an imminent recession.
This recent decline follows a poor press conference by Federal Reserve Chairman Jerome Powell, where he called the Wednesday rate cut a "mid-policy correction." He alluded to a similar move made back in 1995 and 1996 under Alan Greenspan, to act as an insurance policy to prevent slow growth from moving to a recession.
However, moving interest rates lower before a recession occurs could have the opposite effect, creating a bubble in assets such as the stock market, should traders anticipate deeper cuts in interest rates.
While yields still seem low given current economic conditions, other countries have far lower 10-year yields. Italy yields 1.56 percent, Spain yields 0.56 percent ,and Germany yields -0.44 percent, a yield that guarantees its investors with a loss!