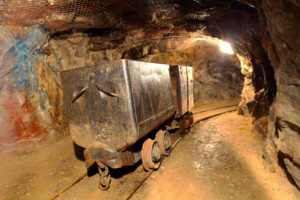 It's been a tough road for silver prices as the ratio of gold to silver has continued to fall, reaching its highest value in the past 100 years on March 18 at 124:1. That means that it took 124 ounces of silver to buy one ounce of gold.
How does that compare historically? There have only been two other times in history it was near 100, in 1940 and 1991. Since 2000, the ratio has floated between 50 and 80. The ratio broke out of the range in mid-2018 and accelerated in 2020. So far in May 2020, the ratio has fallen sharply and is an indication that silver may be regaining its luster both in real terms and in its ratio to gold.
Since the March 18 low, the price has rallied from $11.84 to over $17. Since 2014, the price of silver has had a hard time breaking $20 as gold prices appear to be ready to test its all-time high in 2011. Part of the reason for this is silver is more of an industrial metal. Only about 19% of silver is stored compared to the rest of it going to some sort of fabrication facility.
Your FREE Book is Waiting to Be Claimed...

Income expert Neil George has just released a new book called Income for Life.

Inside, it details more than 65 little-known income streams that ANYONE can collect. 

However, this book is not available for sale. Instead, we're on a nationwide campaign to spread the book far and wide for FREE.
With fewer mining companies around and the potential for demand to increase along with a weaker U.S. dollar, it may be just the time to catch silver on a major upswing.
The following list are companies that predominantly mine silver and stand to benefit significantly as silver prices rise.
Special:
The Top 5G Stocks to Buy Now
Silver Stock #1: First Majestic Silver Corp (AG)
First Majestic engages in the production of mineral properties with a focus on silver production in Mexico. They have three mines currently in production in San Dimas, Santa Elena and La Encantada. Their facility in San Martin is temporarily suspended and they are starting projects in La Passilla, Del Toro, La Guitarra, La Luz, and La Joya.
For Q1 2020, the company's all-in sustaining cost (ASIC) was $12.99/oz. That number includes the operating cost, capex, G&A and other expenses. FSM has also increased production consistently but expects 2020 production to be a little less than 2019.
Silver Stock #2: Fortuna Silver Mines Inc. (FSM)
Fortuna engages in the exploration, extraction, and processing of precious and base metal deposits in Latin America. They have two producing mines in San Jose, Mexico and Caylloma, Peru. The have a project under development in Lindero, Argentina.
Their 2019 all-in sustaining cost (ASIC) is around $14/oz.
Silver Stock #3: Hecla Mining Company (HL)
Hecla Mining Company is engaged in discovering, acquiring, developing and producing silver, gold, lead and zinc. The Company and its subsidiaries provide precious and base metals to the United States and around the world. They are the largest silver producer in the U.S. and the fifth largest gold producer in Quebec. Their properties are in Alaska, Quebec, Idaho, Nevada, and Durango (Mexico). The company has $215 million in cash as of their last report and has no debt due until 2023.
The company has established put contracts for $16 silver, and $1,450 and $1,650 gold prices for 2Q and 3Q. The production in their silver mines are based on $14.50 silver prices and $1,300 gold prices. Their ASIC for silver is $10.13/oz after credits.
Silver Stock #4: Pan American Silver (PAAS)
Pan American Silver engages in the exploration, development, extraction, processing, refining, and reclamation of silver mines. The company owns and operates mines located in Mexico, Peru, Canada, Argentina, and Bolivia. It also produces and sells gold, zinc, lead, and copper. The company has cash and cash equivalents of $239.2 million and total debt of $299.2 million.
The company has an ASIC for silver of $8.18/oz and $15.26/oz of silver sold. Their ASIC for gold is $757/oz and $969/oz of gold sold.
Silver Stock #5: MAG Silver Corp (MAG)
MAG is a junior mining company that focuses on acquiring, exploring, and development of mineral properties in Mexico. It explores for silver, gold, lead, and zinc deposits primarily in Juanicipio, Mexico. The company boasts significant exploration upside as only 5% of the property has been explored and a potential 19-year mine life. They also have $132 million in cash and no debt.