Apple (Nasdaq: AAPL) ended the year in an interesting position. Its stock was in a down trend.
Special:
The Only 8 Stocks You Need for 2020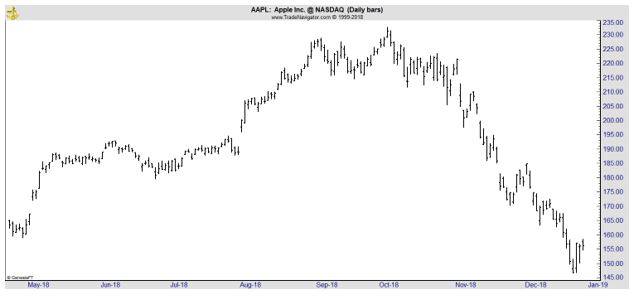 This reverses a long standing up trend in the stock.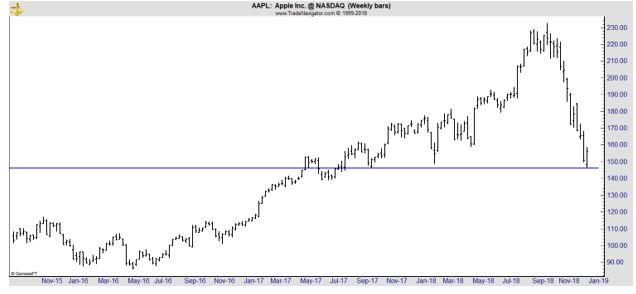 Just Released: The Top 8 Stocks to Buy for 2020

Inside this Stock Research Report: The only 8 Stocks you need for reliable growth…how this pizza stock turned $10,000 into over $1 million…50 lousy stocks to dump now, and more!  These stocks don't make news. They just make money.
Recent lows, marked with a horizontal blue line in the chart, should offer support. But a break below that level could lead to a sharp sell off since that is an important and obvious technical support level on the chart.
A break of that line could push the stock towards $100 a share, a price level that sounds impossible but could be within the realm of possibility in a bear market.
Analysts expect the company to report earnings per share (EPS) of more than $13 in fiscal year 2019 which ends in September. At the recent price, the stock is trading at about 11.5 times expected earnings. This is near the 5 year average price to earnings (P/E) ratio of 11.6 for the stock.
The low valuation is an indicator that the company is not well regarded by analysts. Other stocks in the FAANG grouping have significantly higher average P/E ratios:
Facebook's average P/E ratio for the past five years has been 51.
Amazon's has been more than 200.
Netflix's P/E ratio averaged 180.
Google's ratio has averaged 28.
Apple, a company with steady earnings, has a below average P/E ratio.
Problems From an Investor's Viewpoint
Some analysts have long raised questions related to the amount of cash that Apple keeps on its balance sheet. The chart below shows that cash and short-term investments (the bars in the chart) reached almost $88 billion early in 2018 before falling to about $66 billion.

Source: Standard & Poor's
The reason this is a concern for some is because management's primary function in a large, publicly traded company is to allocate cash. Management is generally trying to allocate cash to the most promising opportunities for investors.
Promising uses for cash include buying other companies, researching and developing new products or making significant enhancements to existing products, expanding existing operations or rewarding shareholders with dividends and share buy backs.
The chart above shows the number of shares outstanding and the number has declined steadily in the past five years, falling by more than 25%. The company has spent hundreds of billions of dollars on its own stock in the past five years including about $75 billion in the past twelve months.
This is concerning to some analysts because it indicates management does not have a better use for the cash. If they were working on an important new product or building new markets, Apple would have the cash to fund the initiative.
Instead, Apple is spending about 5% of revenue of research and development, less than any of the other FANG stocks and just one third as much as Google.
Many analysts are looking for a breakthrough product to push Apple to new highs and that appears to be unlikely according to sources that track the company's products.
Apple's New Products Could Determine the Next Trend
Looking ahead, TechRadar.com tells us to expect a busy year with a number of potential new products from Apple:
New Mac Pro. We've been anticipating the new Mac Pro for a while now, but we know its coming, and we know it's coming in 2019. The only thing we don't know is when in 2019 we'll see the new Mac Pro. Apple has come out and said that the computer will be modular and upgradeable, and if the iMac Pro was any indication, we might be seeing an extremely powerful Mac.
New MacBooks. When it comes to Apple's 2019 lineup of MacBooks, we're not quite sure what's going to happen. We'll see a new MacBook Pro, that's a given – Apple hasn't missed an annual upgrade for its flagship professional laptop to date. Regardless, expect to see new Intel silicon inside these laptops – Apple's in-house computer processors are still years away.
iPhone XI. Apple releasing a new iPhone is inevitable, and the rumors are already starting to roll out. It might be thinner and lighter than ever before, thanks to a new touch-integrated OLED display, and Apple might even include its own modem, making it an almost all-Apple device. Also, we wouldn't be surprised to see Apple take another three-pronged strategy with its iPhone models this year, with two high-end models and an entry-level version alongside them. Finally, don't expect to see a 5G iPhone in 2019: Apple will surely sit on that for a while longer.
New iPads. Apple knocked it out of the park with the iPad Pro – it can outpower many full-blown laptops, on top of the fantastic new design. With the next non-pro iPad, we can see Apple bringing over the same bezel-less design as well as FaceID, like it did with the iPhone XR. We've also seen rumors of a new iPad Mini arriving in 2019. We fully expect to see more drastic software improvements than hardware, as iOS needs some serious work to both remain competitive in the phones space and improve productivity for its 'Pro' tablets.
Without a significant change on the horizon, Apple is likely to continue growing slowly and that could be good for the stock. The run up in 2018 was likely more than the fundamentals justified and the down side risk is likely to be more than the level justified by the fundamentals.
That means Apple could be driven by technical factors. Here, the news is bearish.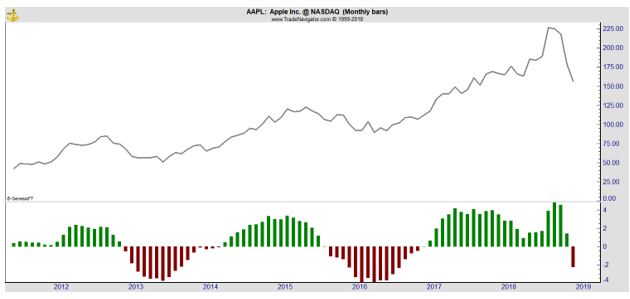 This chart uses monthly data and shows the MACD indicator at the bottom of the chart. Sell signals are rare, but important to consider. As the chart shows, Apple is flashing a rare sell signal on its monthly chart.
This could just reflect the past month's bearish market action, but it is unlikely the stock will recover its losses quickly from a technical perspective. Fundamentals also suggest there is no reason to expect a sharp rally based on a new product.
This indicates Apple might be a nice stock to trade as news announcements will almost surely create volatility. But long term investors might be able to obtain a better entry point in the next year as the stock potentially overshoots to the down side and offers a bargain.
Special:
The Only 8 Stocks You Need for 2020