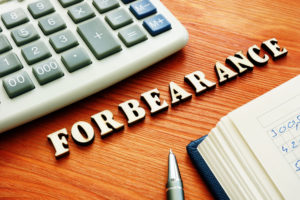 The iShares U.S. Real Estate ETF (NYSEARCA: IYR) a fund invests in real estate companies and REITs. As COVID-19 cases increase and weekly unemployment claims continue to run above expectations, it places real estate in a difficult position. The strictures on the use of property lowers the economic value and the reduced foot traffic along with fewer employed places a cloud over the profitability real estate holdings.
One of the measures that passed Congress allows individuals to seek forbearance. After leveling off for a time, last week saw the numbers of people seeking forbearance increase by 79,000. That means that 4.68 million homeowners are in forbearance, which represents 8.8% of all active mortgages. The loan type that has the highest percentage of loans in forbearance FHA/VA loans at 12.5%.
As the uncertainty increases around the real estate sector, the option activity is picking up. On Friday, the put option volume on IYR was over 2 times the average at over 37,000 contracts. Of the contracts traded, 87% was filled between the market. Two separate bearish vertical trades were made in the last hour of trading that filled in between the market for the 17 JUL 20 and 10 JUL 20 expirations. The trade that was made was a long vertical at the $74 and $70 strike prices for $0.86 and $0.68.
Here are links to our last two unusual option activity reports.
Option Market Anticipating Unfriendly Skies for this Airline
Special:
The Top 5G Stocks to Buy Now
Options Market Sees Slippery Slope for Oil Stocks at Highs
Action to Take: The type of trade being placed achieves its max gain if the price closes below $70 by expiration. This helps give a near-term target for the price in the coming weeks.
Speculators may want to consider placing a similar trade using 21 AUG 20 74/70 long put vertical for around $1.20 or less.