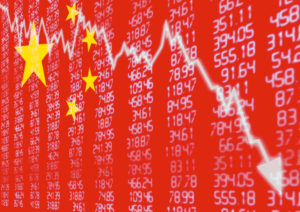 The rhetoric is heating up between the U.S. and China over the virus, Huawei, renegotiating the Phase 1 trade deal, and the halting of U.S. pension investment in Chinese companies. As all the news is swirling around and the potential impact on publicly traded Asian companies and Chinese companies, in particular, could be big. Wilbur Ross, U.S. Commerce Secretary, was quoted by Reuters regarding Huawei as saying, "there has been a very highly technical loophole through which Huawei has been in able, in effect, to use U.S. technology with foreign fab producers."
The upside of shorting Chinese stocks could be huge, but so are the risks. This is where options can provide a limited risk and high reward opportunity if your projections are correct. On Friday, the option volume wasn't all that significant on the iShares China Large-Cap ETF (FXI). However, there was a rather large bearish option trade that was placed on the ETF. This is one of several large bearish trades placed on FXI in the past couple weeks.
The trade that was made was a long vertical spread for on the 29 MAY 20 37.50/33.50 put options. There were 7,500 contracts traded at a cost of around $0.60. The trade involves buying the $37.50 and selling the 33.50 put at the same time. The maximum gain of $340 a contract is established if the price closes below $33.50 at expiration. The use of the $33.50 strike matches the support in mid-March.
Famous Hedge Fund Manager Leaks His #1 Stock to Profit on Post-Pandemic

Just a month ago, legendary hedge fund manager, Roger Scott announced his top stock to a few select people…

Those traders were able to earn as much as $6,031 in just a matter of days…

But today, he's announcing his newest Fast Cash stock pick that he says could be even MORE explosive…

Click here to see the stock now for FREE.

Here's the catch… you MUST see this stock in the next 24 hours…
Action to Take: The near-term target is $33.50. Speculators may consider setting up a similar trade using the June options. For example, the 19 JUN 20 39/37 long put vertical can be bought for around $0.95 or less. The max gain of $105 or 110% ROR is achieved if the price closes below $378 at expiration. Consider closing early for $1.60 or more.
Special:
The Top 5G Stocks to Buy Now