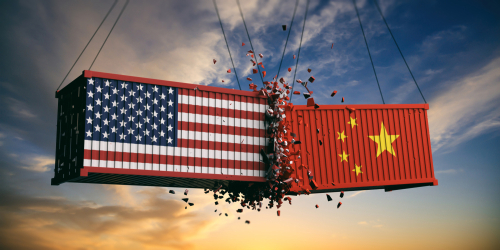 Trade war uncertainty impacts growth rates in China.
On Monday, Chinese economic data indicated that the second quarter of 2019 was the slowest the country has grown in more than 27 years. At current rates, China will "only" grow at an annualized 6.2 percent, as measured by Gross Domestic Product.
The number was slightly lower than the first quarter, and consequently indicates an increased likelihood of a sustained slowdown.
Special:
The Only 8 Stocks You Need for 2020
China is expected to ramp up stimulus measures to combat the slowing growth, but most signs are that the main culprit is trade. The ongoing U.S.-China trade war has led to a shift in international production away from China and towards other countries with lower tariff rates.
Some, including President Trump, see a higher likelihood that this trade-based slowdown will lead to a faster resolution on trade issues that are favorable to both countries.
While the slowdown was expected, other factors such as retail sales, industrial output, and fixed investment have shown modest increases. Overall, China continues to pursue a policy of heavy exports, a loose monetary policy to give it an edge with trading partners, and industrial policies meant to spurn investment.
The state-run economy can thus create goals to double its economy from 2010 levels by 2020 and still remain largely on track to do so, even with recent trade war uncertainty weighing on growth.