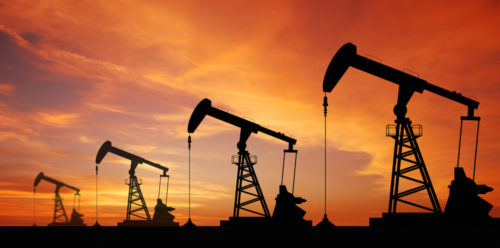 Decline in reserves five times larger than expectations.
EIA petroleum inventories for the week indicated a sharp drop in inventory of 10 million barrels. With a 2.7 million drop in the prior week and with a consensus for a 2 million barrel decline, the decline was five times larger than expected.
Gasoline saw a 2.1 million barrel decline, against expectations for a 0.4 million barrel decline. Last week, gasoline inventories rose by 0.3 million barrels.
Special:
The Only 8 Stocks You Need for 2020
Distillates dropped by 2.1 million barrels, nearly offsetting the inventory gain of 2.6 million barrels last week. This was also in stark contrast to expectations for a 0.9 million barrel rise.
The inventory numbers, set against record production in the United States, were enough to send oil prices higher in trading. Oil prices have traded weak in the past few weeks, a trade war fears have indicated lower potential energy use globally. Seasonally, summer remains a strong period of oil demand in the United States.
Action to take: We caution investors not to read too much into one week's data, and to look at multiple periods of data instead. Oil tends to trade in a range, and is still near the bottom of that range and could head higher. We would be cautious on oil right now should prices press past $65, but that's a long way off. This is unlikely the start of a bigger trend.
Just Released: The Top 8 Stocks to Buy for 2020

Inside this Stock Research Report: The only 8 Stocks you need for reliable growth…how this pizza stock turned $10,000 into over $1 million…50 lousy stocks to dump now, and more!  These stocks don't make news. They just make money.