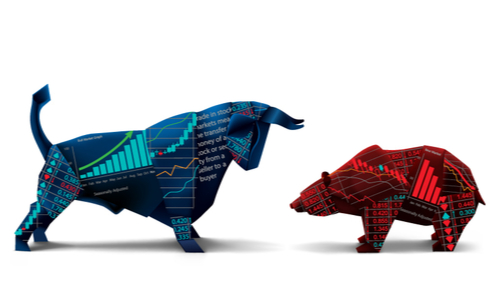 Market rally damaged by recent events.
The sharp drop in stocks over the past few weeks have sent markets down about six percent from all-time highs. While that perspective is helpful for fearful traders, chart analysts warn that markets will likely decline a bit more before rallying again.
That's because technical support levels—prices where traders are willing to buy in—have been breached, and lower levels likely have to be hit before markets bottom and rally again.
Special:
The Only 8 Stocks You Need for 2020
Specifically, the S&P 500 index has broken down against its 50-day and 100-day moving average. Typically, the market is bullish when stocks are trading above that price. The next indicator, the 200-day moving average, is a longer-term indicator. When these indicators are broken, it can take months for the market to recover and get back to hold highs before heading higher.
Data indicates that the average pullback of at least 5 percent since the 2009 market rally started lasts 28 days, and the average decline is 8.36 percent.
The last market decline, at the end of 2018, was much higher, and took stocks until June 2019 to hit new all-time highs again.
Action to take: We are not too worried about pullbacks, as they're a healthy part of investing. However, it would be a good time to scale back from speculative positions and look at potential buys at lower prices to re-trench your portfolio into stronger positions going forward.