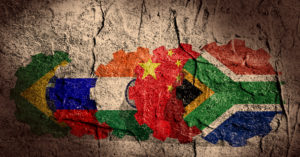 As the U.S. and China trade war heats up over Huawei and 5G, it leads you wonder whether it's all bluster or if there is something more to it. China appears to be targeting tech stocks like Apple Inc (AAPL), Oracle Corp (ORCL), Qualcomm Inc (QCOM) and Boeing Co (BA). However, China is still reliant on semiconductor equipment companies like Applied Materials Inc (AMAT), KLA Corp (KLAC) and Lam Research (LRCX).
On the topic of the U.S.-China trade war, Commerce Secretary Wilbur Ross tweeted:
"We must amend our rules exploited by Huawei and HiSilicon and prevent U.S. technologies from enabling malign activities contrary to U.S. national security and foreign policy interests."
REQUIRED by Law to Pay Out When You Request It

Find out why Barron's calls it "one of the greatest strategies in existence." 

Twenty-year trading veteran teaches you how to make as much as $2,690 per week with this low-risk strategy you can use at home.
The fact is that it will be very difficult to decouple the U.S. and Chinese economies, and option traders might be seeing that as an opportunity to go long Chinese companies that makes up a significant weighting in the iShares Emerging Markets ETF (EEM).
On Monday, the options on EEM weren't trading at above average volume levels. However, the call volume was decided on the bullish side since around 60% of the volume was traded at the ask price. A bulk of the activity was centered on two call strike prices for the 19 JUN 20 expiration. Nearly 9,000 contracts were mostly bought on the $39.50 strike and 13,000 on the $40.50 strike.
Special:
The Top 5G Stocks to Buy Now
Action to Take: The interest in those strike prices provide an expected move above $40 in the next month.
Speculators may want to consider buying the 19 JUN 20 37.50/39 call back ratio spread for around a $0.25 credit. In this trade, one contact is sold at $37.50 and 2 contracts are bought at $39. The trade has a max loss of $125 a contract. if the price closes at $39 at expiration. If the trade is below $37.50 at expiration, the trade makes $25 a contract. The upper breakeven is at $40.25 at expiration. The intent is to play the move to $40 in the next couple weeks, but still has the potential to make money if the stock falls below $37.50.