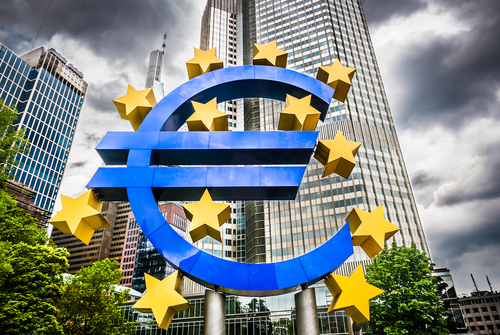 Europe's central bank hints at more stimulus; stocks rally
Stock futures rose, and markets had one of their best days of the year on Tuesday, following news out of Europe.
Mario Draghi, head of the European Central Bank (ECB), hinted that the bank would be likely to cut interest rates and start re-purchasing assets in the coming months to stimulate economic growth. These purchases would be similar to the quantitative easing (QE) done by the Federal Reserve in the past.
Special:
The Only 8 Stocks You Need for 2020
The comments came at a conference in Portugal, where Draghi pointed out that Eurozone growth is low, and inflation expectations remain muted.
Recent inflation for the Eurozone suggests about a 1.2 percent change per year, down from 1.7 percent expectations in April.
The goal behind the stimulus would be to increase growth, without pushing inflation too high. The ECB is currently targeting inflation rates of 2 percent per year, also in line with the U.S. Federal Reserve.
Drahi has recently hinted in prior months that the Eurozone economy faces more downside risks than upside right now.
The comments came hours ahead of a Fed meeting, which could lead to a change in interest rates. Like the ECB, the Fed has likewise hinted recently that more stimulus may be on the way.