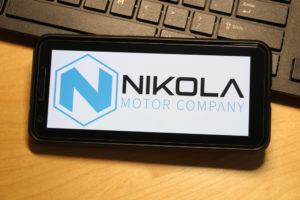 One thing that Trevor Milton, founder and CEO of Nikola Corporation (NASDAQ: NKLA), isn't bashful about is going after the big boys. Last week, the company introduced their pick-up truck offering, the Badger. If you know anything about Badgers, they're fierce and the honey badger is known to take on all comers. In this case, the Badger is taking on the Ford F-150 and the Tesla Cybertruck. If you've see some of the videos, it's a very interesting and investors are taking notice despite the 2022 delivery date and without a current prototype.
On Wednesday, it was the options market that was stepping up to the plate. The call option activity was about 20% above average at over 371,000 contracts. The volume was split evenly between the contracts filled at the bid and ask, with 52% getting filled between the market. There were some large trades getting filled in-the-money on the 17 JUL 20 $40 and $45 strike prices. The contracts were filled just before the close but doesn't look like it was an ITM long vertical.
The activity that did stand out as interesting was the 18 SEP 20 $70 call strike that had 19,141 contracts traded against an open interest of 1,451. The activity is largely buy side activity that helps set the stage for a bullish expected move.
Disruptive Tech Could Bankrupt Big Oil

The most powerful oil companies in the world are terrified of this breakthrough and what

it's going to do to disrupt their industry. Ex-Wall Street broker says early investors could get rich.
Here are links to our latest unusual option activity reports.
Is it Time to Ride this Bronco: Ford Motor Company Stock (NYSE: F)
This Company May want to Change its name to 'Bed, Bath & Below': Bed Bath & Beyond Inc Stock (NASDAQ: BBBY)
Action to Take: NLA finished 2.71% higher on Wednesday as it looks to establish support. The near-term target is $70, which places the stock near its late June high.
Speculators could consider buying the 21 AUG 20 50/55 long call vertical for around $2.00 or less.