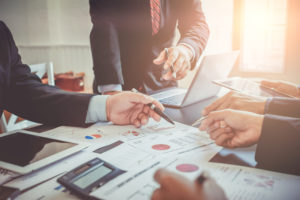 The insiders of Prospect Capital Corp (PSEC) have purchased over 29 million shares of their company since March 1. That makes them the largest purchasers of shares of any company between a $1B and $20B market cap.
PSEC is a leading provider of flexible private debt and equity capital to sponsor-owned and non-sponsor-owned middle market companies in the United States and Canada. PSEC is a publicly traded closed-end investment company that has elected to be regulated as a business development company under the Investment Company Act of 1940, as amended. PSEC is managed by Prospect Capital Management L.P.
BDC companies typically pay extraordinary dividends and PSEC is currently yielding over 16% following it sell-off since mid-February. Over the past month, 13 different transactions have purchased a total of over 29 million shares. Most of the transactions have been by the CEO and over 10% owner in the company, John Barry.
These types of companies may struggle for a little while longer, but the passage of the stimulus is likely to "stimulate" companies in this industry. The reason for this is that these companies assist small and mid-sized companies get access to programs passed for them in the stimulus bill.
PSEC has been stabilizing around the $4 support area and has seen significant upside and downside volume over the past month. The price is currently falling back toward that support and provides near term upside as well as significantly more potential as the positives of the stimulus likely play out in coming quarters.
Special:
The Top 5G Stocks to Buy Now
Action to Take: PSEC has a near-term price target of $5 and longer-term potential near $7.
Those wanting to own the stock but have some protection to the downside, may want to consider a covered stock strategy. This is where the shares are purchased along with a put. This provides a guaranteed sale price for 100 shares of the stock for a period of time. The cost of the put will be paid for in all or in part through the dividend in coming quarters. The 21 AUG 20 $4 put can be bought with the stock for around $0.60. That gives the investor 143 days of protection and all the upside in the stock with a cost basis of $0.60 plus the purchase price.