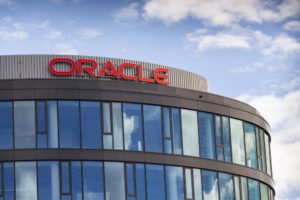 In their June 16, 2020 earnings report, Oracle Corporation (NYSE: ORCL) saw a significant increase year-over-year increase in cloud revenue, a 3% increase in non-GAAP EPS, and a 9% increase in GAAP EPS. While cloud and earnings showed a positive change, revenues declined 6% and 4% with currency adjustments.
The Stock price on the earnings saw the price gap higher but finished in the middle of the daily range. The result following the earnings is that the price remained in its multi-month range from $51 to $55. The $55 resistance also happens to be an area of resistance from last year as well.
With such a long-standing level of resistance, it makes you wonder what the perception is for insiders in the company as the price once again finds itself at that level. Since June 24, there have been four insider trades totaling 6.7 million shares and over $360 million in value. While 5.6 million of the shares were sold by Chief Technology officer Lawrence Ellison with over 1 billion shares, it is still significant as an indicator.
(ALERT) Google Just Poured $4 Billion Into THIS…

Companies all over the world are funneling as much money as they can into what Bill Gates calls, "the holy grail" of modern technology.

It's fresh out of a highly secretive lab in Boston, Massachusetts, and it's poised to make early investors billions.

It's NOT cannabis. It's NOT bitcoin, or some other blockchain-related technology. It's NOT 5G.

And it could be bigger than all of those. You could be looking down the barrel of 5,000% profits or more.
Here are links to the last two insider trading reports.
Insiders of TETRA Technologies, Inc (NYSE: TTI) Stock Significantly Increase Holdings
10% Owner Sells Ahead of Layoff Announcement from Audio Company
Action to Take: ORCL is a near-term bearish opportunity with a target of $51.
Speculators may want to consider a higher probability trade by selling the 31 JUL 20 56/57 short call vertical for around $0.30 or more. The max gain of $30 per contract or 42% ROR is achieved if the price closes at or below $56 at expiration. Consider closing early for $0.10 or less.