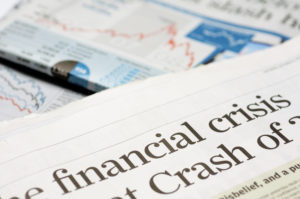 There are times when unusual option volume is an indication for the direction of a particular stock and then there are times when the activity is a reflection on the overall market. For many years I've watched the Skew Index that is published by the CBOE. This is a product that is a reflection of hedging activity. For example, if puts are being bought and calls being sold to help pay for them, it skews the implied volatility causing the call implied volatility to fall relative to the puts. Rising skew is an indication of increased hedging and typically represents more nervousness on the part of institutional investors.
The activity on Financials Select Sector SPDR ETF (XLF) was significant. The put volume was over 2.5 times the average at over 500,000 contracts with 70% getting filled at the ask price. Over 200,000 of the volume occurred on the 17 JUL 20 $21 and $18 puts. That is a lot of volume and very decidedly bearish. The size of the trades are a clear indication that its institutional and that they may be using XLF to hedge themselves against other risk in the financial sector.
As the trades were going through at the same time, there was also a surge in sell-side activity in the stock at the same time. If you were an option maker and had over 200,000 contracts fall into your lap that you have to sell, you would want to offset your risk as well.
Action to Take: This is a reasonably significant sign that there is some skittishness in the market on the institutional side. The indication is not just about the near-term opportunity to go short XLF falling to $20, but a bigger indication that institutions might be getting a little nervous.
Speculators may consider making a similar trade. In this case, the 17 JUL 20 21/18 long put vertical would be bought for around $0.60. The max gain of $240 is achieved if the stock closes below $18. Consider closing early for $2.25 or more.
Special:
The Top 5G Stocks to Buy Now