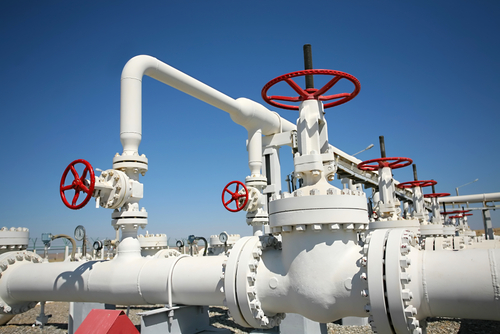 Larger-than-expected build sends prices down.
The U.S. Energy Information Administration released weekly data on natural gas inventories, suggesting a stronger-than-expected build. With an increase of 84 billion cubic feet, inventories rose more than the 78 billion cubic feet expected.
The increase send natural gas prices down about 2 percent, to around $2.60. Inventories are particularly building up in the Midwest region, and without some cold winter weather, there could be a 500 billion cubic foot surplus by year-end.
Natural gas prices typically decline in the summer and rise in the winter, when natural gas is in demand as a heating fuel. The buildup now, at the wane of summer, isn't unusual. But with high levels of natural gas production thanks to inexpensive fracking methods, prices remain near multi-year lows.
Action to take: For the moment, none, but this is an area that could see a big move upwards in the coming months on cold winter weather. The seasonal trend for natural gas demand is still intact, and investors who wait for things to look bad can get a great price in various names in the natural gas space.
Speculators may want to look at the VelocityShares 3x Long Natural Gas ETN (UGAZ), which is leveraged to make a move triple that of natural gas. Shares can likely get back to their 52-week low of $11 before heading higher, and may be the best way to play a bounce on natural gas prices in the winter.