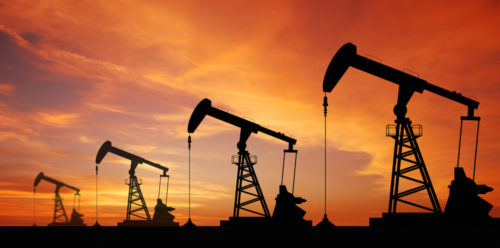 Oil inventories see another unexpectedly large decline.
Crude oil inventories fell by 10.9 million barrels, per the latest economic data released Wednesday. This is the sixth week in a row to see drops in oil inventories.
Crude production dropped by 700,000 barrels in the past week, largely due to stoppages in the Gulf of Mexico related to tropical storm Barry. Rig counts in the U.S. have dropped for both onshore and offshore oil in recent months as well.
Special:
The Only 8 Stocks You Need for 2020
While this data tends to be seasonally supported by increased demand during the summer driving season in the United States, gasoline inventories rose by 4.6 million barrels.
So, as with other economic indicators, there is both good news and bad news, but oil prices rose modestly on Wednesday after the data came out before declining into the close.
Some oil analysts see the inventory moves as a sign that oil has priced in a low for the year already, while others see a sign of a slowing economy and thus slowing demand for oil.
International data suggests that economies are slowing. Oil futures prices for Brent oil—the international standard for crude—is showing a discount two months out. This is a situation called "contango," which indicates that global supplies are likely in excess of current global demand.