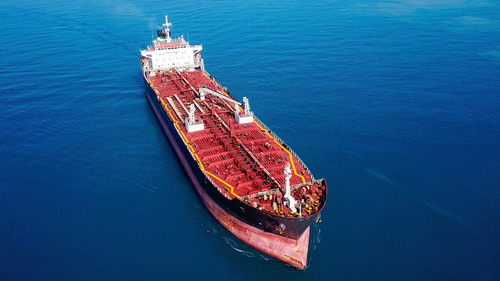 Two tankers torpedoed in Gulf of Oman.

Crude oil prices rose on Thursday, following attacks on two oil tankers in the Gulf of Oman. The Gulf is close to the Strait of Hormuz, where more than 30 percent of the world's oil shipments pass through.
Both tankers reported heavy damage and had their crews were evacuated. The vessel Front Altair was on fire, but afloat, denying rumors that the vessel was sunk.
Special:
The Only 8 Stocks You Need for 2020
With no organization taking responsibility for the attacks as of yet, rumors are running rampant.
The event was enough to send oil prices about 3 percent higher on the day, and for energy stocks to lead the market higher.
While this was going on, OPEC released a report that reduced its forecast for growth in world oil demand this year. The expected demand is now 1.14 million barrels per day, down 70,000 from its estimate of 1.21 barrels made last month.
Action to take: Geopolitical events flare up and die out quickly. While this could be a prelude to a bigger problem for the global supply chain, it may also be a one-off event. For the time being, caution is warranted regarding the energy sector, as the "big picture" data is still on the bearish side.
Just Released: The Top 8 Stocks to Buy for 2020

Inside this Stock Research Report: The only 8 Stocks you need for reliable growth…how this pizza stock turned $10,000 into over $1 million…50 lousy stocks to dump now, and more!  These stocks don't make news. They just make money.