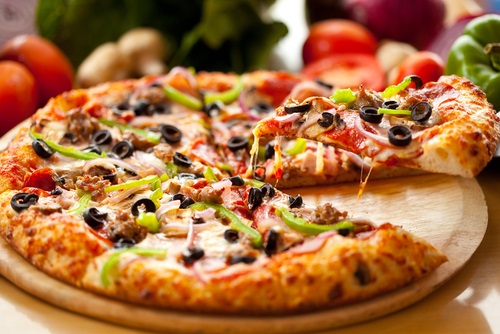 Investment firm sees opportunity in pizza business.
Oppenheimer started coverage on Papa John's International (PZZA), starting the company out with a Perform rating.
The company sees the current valuation of the company as reasonable, but has long-term potential. The company's international operations have room to run, and the company is also seen as a potential acquisition target in the future if the company's turnaround continues.
Papa John's has struggled in recent years as pizza sales have declined and the board of directors replaced the company founder.
As the company has been making a directional shift and improving earnings, shares have rallied. They're up 12 percent in the past year, but 36 percent off their 52-week low, and now priced at 34 times forward earnings.
Action to take: As a "Perform" rating isn't as strong as an "outperform" rating, and as shares are already up so far from their low, investors would be better off waiting for prices to cool. Investors who buy in the low $40 range are likely to fare better.
Speculators betting on a continued improvement in earnings or a surprise buyout offer could consider the April 2020 $60 calls, but the risk looks high relative to the potential reward. A better bet is to trade elsewhere in the food space with an unloved, out of favor name.
No. 1 Commodity Stock to Buy in 2020

Hint: It's not silver, platinum or any other precious metal. It's not aluminum, nickel, iron ore or lithium, either.

But without it, we couldn't make airplanes, automobiles, batteries, boats, cosmetics, computers, surgical tools or smartphones.

Yet this metal could soon experience the greatest supply crunch in history … which could launch its price to levels never seen before.