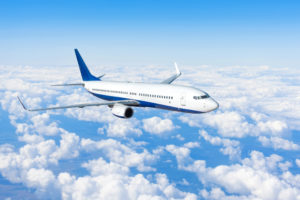 The rise in COVID-19 cases is creating a stir over what activities are acceptable and what businesses pose the most risk to consumers. Clearly, airlines have been in the crosshairs for a while and it may about to get even worse. In a hearing held on Thursday before the House Subcommittee on Space and Aeronautics, experts were paneled to discuss airline policy and prevention. Vicki Hertzberg, a biostatistician and professor at Emory University suggested:
"If the SARS-CoV-2 virus is as contagious as the influenza virus with the transmission rate that we 'super-sized' in our simulation, one can expect one to two passengers or crew to become infected on a full flight of 4 hours duration."
Airlines like JetBlue Airways Corporation (NASDAQ: JBLU) have proposed leaving a seat in between and others have suggested placing a plexiglass barrier. The response by the "experts" was that we don't know enough about the virus. That's comforting for companies that are trying to plan. One of the takeaways is that measures may require you to show up 4 hours before your next flight.
Option traders appear to be seizing the opportunity to add some bearish exposure to airlines on Thursday. The put option activity on JBLU was over times the average with 60% of the volume getting filled at the ask price. One trade for 5,500 contracts got filled in one print on the 21 AUG 20 $9 put option for $0.75.
Here are links to our last two unusual option activity reports.
Special:
The Top 5G Stocks to Buy Now
Options Market Sees Slippery Slope for Oil Stocks at Highs
The Apple Breakup that Everyone is Talking About has Option Bears Growling
Action to Take: JBLU is a short opportunity on a close below Thursday's low.
Speculators may consider the same trade using the 21 AUG 20 $9 put for around $0.80.