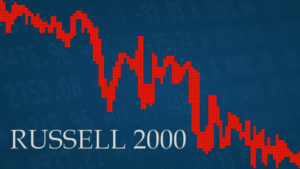 There are a lot of reasons to add bearish positions, even if bullish on the overall market. If you have a lot of long exposure, you may want to add some downside hedges in case you're wrong. At other times, you're just taking bearish bets that the market or stock is going to decline. By using index products like index ETFs, it allows you to eliminate the individual stock dynamics that sometimes move counter to the market.
On Thursday, more bearish bets were being put on by option traders using the iShares Russell 2000 ETF (IWM). IWM is an ETF that is designed to track the Russell 2000 index, which is follows small capitalization companies. The three top-weighted sectors are healthcare, financials, industrials and technology in that order. Small caps typically underperform during bearish times and in strong market environment will lead during bullish times as well. Since April 3, the Russell 2000 has been outperforming the S&P 500.
The primary vehicle of choice for option traders has been long put verticals. This makes sense since implied volatility of out-of-the-money (OTM) puts increase the further away form the current stock price you go. As a result, the farther OTM put options are relatively expensive compared to the closer strike prices. This allows a trader to buy an option that has a higher delta and closer to the money and reduce cost by selling the further OTM put.
On Wednesday and Thursday several rather large long put vertical positions have been put on for may monthly and weekly expirations. An example is the 3,745 contracts placed using the 01 MAY 20 115/100 long put vertical that was entered on Thursday for $2.64. You can tell that this is one transaction by looking at the 1-minute charts for today and seeing both option trades getting filled at the same time and the same amount. The $100 strike price matches the lows on IWM following the COVID-19 outbreak.
Action to Take: This is a good opportunity to either add a bearish position to trade or a portfolio hedge. Either way mirroring this trade makes sense. It provides a max gain of $1236 per contract if IWM closes below $100 by expiration with only $264 of risk.