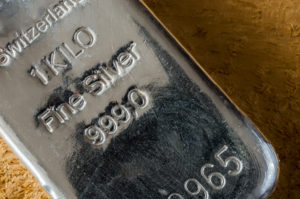 Since mid-February, silver has significantly underperformed gold as the stock market spiraled. A good proxy for silver and an optional product to trade silver prices is the iShares Silver Trust (SLV). Taking a ratio of SLV to the SPDR Gold Shares (GLD) shows that the ratio is the lowest it's been since these products were introduced.
It's not unusual to see gold outperform silver in this type of environment, but during more inflationary times, silver can significantly outperform as cyclical demand for the more industrial metal nature of silver take hold. The reality is that silver has more potential to underperform in the near-term and has more potential to significantly outperform in a little longer-term.
Option trading on Wednesday on SLV seems to embody this expectation. The overall option volume was only 36% higher than average, but the call option volume was nearly 10 times that of the put option volume. Over half of that volume occurred on three strike prices for the 15 JAN 21 $21, $22, and $30 strike prices. All of these options had significantly higher volume than the open interest.
REQUIRED by Law to Pay Out When You Request It

Find out why Barron's calls it "one of the greatest strategies in existence." 

Twenty-year trading veteran teaches you how to make as much as $2,690 per week with this low-risk strategy you can use at home.
This type of trade is called a long vertical spread. This is where the lower strike price is purchased, and the higher strike price is sold. For SLV, the implied volatility for the far OTM calls is fairly high and thus covers nearly half the premium of the call option purchased. This trade has significant reward-to-risk if silver prices took off at the end of this year.
Action to Take: SLV is a long opportunity with a $15 near-term target. However, a similar trade can be constructed through buying the 15 JAN 20 22/30 long call vertical for around $0.25.
Special:
The Top 5G Stocks to Buy Now