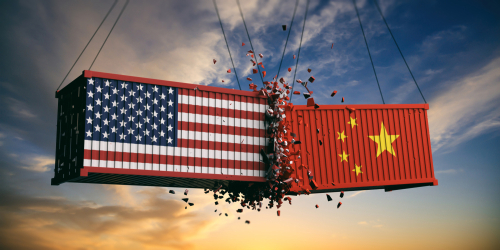 Stocks rally on hopeful trade comments.
The stock market posted strong gains on Thursday, following an announcement from a Chinese commerce ministry official who indicated that the Chinese government would not immediately respond to the latest round of tariff hikes from the United States.
The move led investors to conclude that China was looking to ease tensions, rather than escalate the trade war further, following rounds of belligerent comments from both sides in the past.
The comments led to a large move higher in global markets, with trade-sensitive sectors leading the market higher. The market's recent rally has unwound the entire market drop from trade-related issues in the past few weeks, U.S. stocks are once again back near all-time highs. While U.S. stocks are showing little gain over the past year, since the start of 2019, all three major indices are up over 10 percent.
Action to take: There has been a somewhat predictable—and tradable—pattern of harsh tones followed by walking back those harsh tones regarding trade over the past few years.
We continue to expect market volatility on trade issues until a comprehensive agreement is signed. Investors should continue to stay cautious and avoid highly speculative trades, and instead look for great companies to pick up on a pullback, as markets tend to both drop and rally back quickly on these trade-related news headlines.