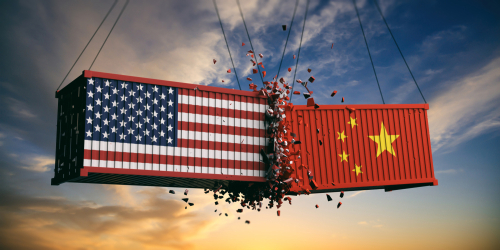 Vice President cites "positive signs" of progress on trade.
The stock market moved off its lows on Friday as more positive comments came out regarding trade.
Vice President Mike Pence stated that he will postpone a planned speech on China policy ahead of the meeting between Chinese President Xi Jinping and U.S. President Donald Trump.
Special:
The Only 8 Stocks You Need for 2020
Pence stated that there were "positive signs" of progress with China regarding issues on trade. The comments were enough to cause a brief pop in markets.
The two presidents will meet at the G20 meeting of world leaders, with the goal of working out a trade issue.
With global economic growth showing many signs of slowing, a resolution to trade issues could send growth rates rising—and give markets the push to move higher without the need for central bank accommodation.
While stocks rose from declines to trade relatively flat for the day, markets closed the week up thanks to a dovish meeting from the Federal Reserve on Wednesday.
The big winner for the week was oil. Prices continued rising on Friday amid U.S./Iran tensions, and reports that President Trump planned a retaliatory strike against the country but then cancelled it at the last minute.
Gold prices also had a good week, rallying to a five-year high in U.S. dollar terms on the likelihood of central bank rate cuts and rising geopolitical tension.