One of the best stocks to own over the last year wasn't anything exciting…
It didn't have a cure for cancer or anything that was revolutionary. It wasn't exactly the next Amazon.com or Apple either.
But we've all used its products.
In fact, between three and four billion of us use its products today.
If you use a cell phone, it's likely to contain its microphones or speakers.
Yet, its stock trades at only $15.25 a share in what could be an $18.8 billion growth story. That company is Knowles Corporation (KN:NYSE).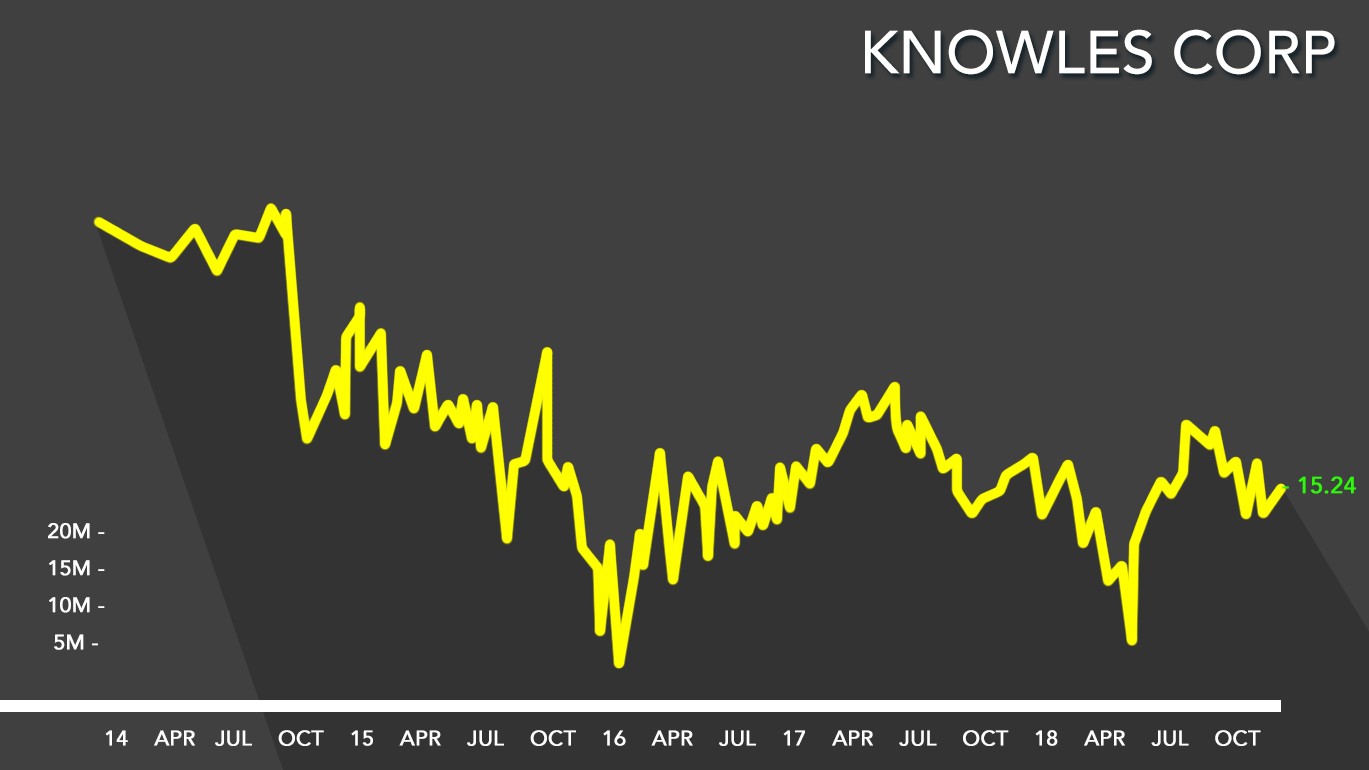 Considered the runaway leader in the voice assist space with 59% of the micro-electro- mechanical systems (MEMS) market, it supplies products to the likes of Apple, Samsung and even Amazon.com, where it exclusively provides MEMS microphones.
It also offers advanced micro-acoustic, audio processing, and specialty component solutions, serves the mobile consumer electronics, communications, medical, military, aerospace, and industrial markets.
It also uses its leading position in the MEMS microphones market, and strong capabilities in audio processing technologies to optimize audio systems and improve the user experience in smartphones, tablets, and wearable products
Plus, if it weren't for MEMS, the trend toward voice-assist would not be possible.
And neither would the opportunity.
At the moment, nearly 20% of Americans have access to voice-assist devices, according to Tech Crunch. That means the adoption of such devices has now grown to just over 47 million Americans in only two years. That's incredible growth.
By 2020, Gartner estimates that 75% of U.S. households with have one in their home by 2020.
And, according to Voicebot.ai:
"The number of households in the U.S. at the end of 2016 was 118.5 million according to US Census Bureau data. The five-year growth rate has been 1.48% annually. If that trend continues there will be 123.8 million US households at the end of 2020. Inside Radio also reported that Gartner's model predicts 20% of households will have two devices and 5% will have three or more in 2020. If we assume the greater than two device households average five devices then 94.2 million US households will have 138.2 million smart speaker devices."
Then, as more products just begin to incorporate more of these microphones to improve clarity and recording, the market could explode.
No wonder it's creating such a global buzz that's not likely to fade.
According to Beige Market Intelligence:
It is estimated that over 50% of all the human interaction with computers would be voice assisted by 2025. Voice-first technology is finding its application in today's consumers' lifestyle and is becoming mainstream technology to be used in many consumer devices. According to the estimates by Google Trends, search queries made on Google in 2016 were 35 times more than in 2008.
The demand for smart voice assistant speakers in North America has been nearly more than doubled between 2014 and 2015. The major reason for this demand was increase in the popularity of smart voice assistant speakers among end-users. For instance, about 13 million US households had purchased at least one smart voice assistant speaker until December 2016.
Until March 2017, the US remained the only market in North America where smart voice assistant speakers were launched officially. However, Google Home is set to release in the Canadian market in the second half of 2017.
As the US consumer electronics market is largely driven by the innovation and introduction of new product formats, smart voice assistant speakers are witnessing a high adoption among US consumers. Major new entrants in the global smart voice assistant speaker market are likely to be based out of the US in the future. Increasing funding of R&D activities for the introduction of products, which can be lighter, compact, and have differentiated functionalities will contribute to the market growth.
Fundamentally, the stock appears undervalued, as well.
In fact, in its third quarter, earnings doubled year over year to 34 cents a share. Revenues were up 6.5% to $236.2 million. Analysts were only looking for EPS of 30 cents on revenue of $220 million. Results were also above management's own guidance for both, as well.
According to the company:
"We delivered Q3 revenues above the high end of our guidance range," said Jeffrey Niew, president and CEO of Knowles. "Sales in our Audio segment were 19 percent higher than the year ago period driven by Mobile, Ear and IoT markets. Revenue from Chinese customers more than doubled year-over-year on strong MEMS microphone demand and higher than expected sales of Intelligent Audio solutions. In the Precision Devices segment, revenues increased more than 30 percent from the year ago period and we achieved record sales for the third consecutive quarter due to strong demand for capacitors across defense, industrial and automotive end markets."
"We expect to see full year 2018 revenue growth of 11 percent driven by both segments. Our transition from an acoustic component supplier to an audio solutions provider is well underway and we are at the very early stages of penetrating a greater-than-$1 billion market opportunity in audio processing. I continue to believe that our core capabilities in acoustics, signal processing and algorithms are unique and we are positioned for continued growth across all of our end markets in 2019," continued Niew.
Technically, Knowles Corporation is severely oversold at double bottom support, as of early December 2018. Near-term, we believe the stock could run back to $18.50.Longer-term, given the growth of the market, we anticipate a price tag of $45.
Buy shares of Knowles Corporation (KN) at $15.25 and let it ride.
5 Super Trends Every Investor
Needs To Know And
THE STOCKS TO BUY NOW
Super trends.
It's how some of the world's most successful investors have become millionaires – and even billionaires.
Thing is, some of these trends are playing out under the radar.
After all, it's no secret that tech stocks are super hot right now. There's so much happening, and at such a fast pace, that it seems stocks are exploding left and right.
But, savvy investors understand that there's more to things that just tech.
And that's why some of the most astute investors are also putting their money in other places…read our article to learn more about the next big super trends.