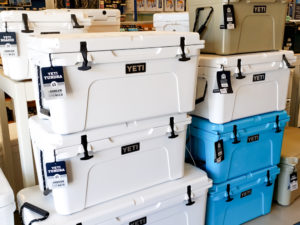 YETI Holdings, Inc (YETI) is a designer, marketer and distributor of products for the outdoor and recreation market. You may have or have likely seen their product line of coolers and other products.
Last week, the company announced a secondary offering of 15 million shares priced at $28.20 a share. The offering was expected to have closed last week as well. The desire to raise capital came after the company posted earnings that beat analyst estimates. The company has beaten estimates for four quarters in a row.
Based on insider trading data available for last week, YETI led optionable companies with over $384.26 million in insider trading value. The 13.7 million shares that were sold by insiders were spread over two transactions. The next closest company was Virtu Financial Inc (VIRT) at $127.3 million in value on 5.5 million shares.
Famous Hedge Fund Manager Leaks His #1 Stock to Profit on Post-Pandemic

Just a month ago, legendary hedge fund manager, Roger Scott announced his top stock to a few select people…

Those traders were able to earn as much as $6,031 in just a matter of days…

But today, he's announcing his newest Fast Cash stock pick that he says could be even MORE explosive…

Click here to see the stock now for FREE.

Here's the catch… you MUST see this stock in the next 24 hours…
The bulk of the shares were sold by Cortec Group, a 10% owner in YETI, that sold 12.75 million of the 18.36 million shares they were holding. Nearly 1 million shares were sold by Roy Seiders, director, which represented around 18.5% of his holdings.
Action to Take: YETI is a short opportunity on a close below $24.50 on above average volume. The near-term target following the breakout is $17.50.
Special:
The Top 5G Stocks to Buy Now
Speculators may consider the 17 JUL 20 $25 put for around $1.90. If the price falls to $17.50 by expiration, the option will be worth $7.50. Consider closing half the position if the price doubles.