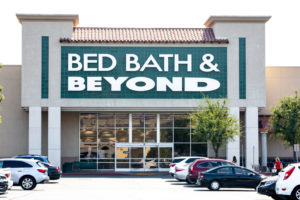 Bed Bath & Beyond Inc (NASDAQ: BBBY) announced earnings on July 8, missing analyst estimates $0.74 or 60.7%. That's a substantial miss and as a result, it's experienced significant negative EPS revisions for 2021 and 2022. Since the report, the 2021 EPS estimates have been revised to a $2.43 loss from a $1.72 loss. That's a substantial negative revision. Following the earnings report last Wednesday, the stock closed $2.55 lower on Thursday, breaking out of its bullish channel. The selling paused briefly on Friday before resuming on Monday.
The option activity was about average on Monday, but there were some significant trades that were made. For example, 20,000 call contracts were sold on the 17 JUL 20 $9 and $8 call strike prices at the same time. A few minutes later, 12,500 put contracts were traded on the 17 JUL 20 $7.50 and the $7.00 strike prices. The call option contracts were sold at market and the put options were bought on the $7 strike price while the $7.50 were filled between the market.
Here are links to our latest unusual option activity reports.
Option Market Eyes Bullish Infrastructure Possibilities: Cleveland-Cliffs Inc Stock (NYSE: CLF)
The Options Market Just Put Up an Inflation Signal: iShares Barclays TIPS Bond ETF (NYSEARCA: TIP)
Action to Take: The combination of call selling and put buying are both bearish strategies. In this case it appears that the activity for the both the $7 and $7.50 strikes were put option purchases. This gives an expectation that the price finish below $7 by the end of the week.
Speculators may want to consider buying a 21 AUG 20 8/7 long put vertical for around $0.50.