The story does sound exciting, "Yes, nearly 35 million households have "cut the cord" on cable and about half of all Americans aged 22 to 45 watched zero hours of cable TV last year; all while Netflix's stock value has shot up 8,300 percent since 2009," according to InsideHook.com.
Special:
The Only 8 Stocks You Need for 2020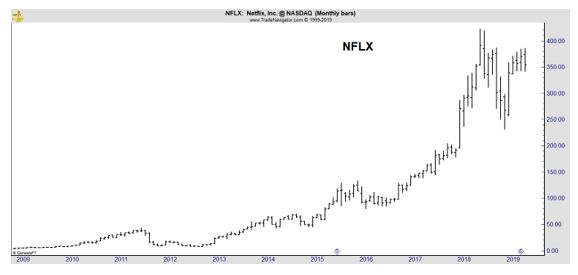 Variety, an entertainment industry news site, reports that part of the company's is due to its spending on original spending which is large,
"Netflix's binge-spending on content isn't expected to slow down.
The streamer spent a whopping $12.04 billion in cash on content last year, up 35% from $8.9 billion in 2017, according to its fourth-quarter 2018 earnings report.
For the year ahead, Wall Street analysts see that climbing 25% — to around $15 billion on a gross cash basis. Netflix will continue to burn cash, telling investors [recently] that it expects to record negative $3 billion in free cash flow in 2019 (similar to last year), and that it intends to continue to turn to debt markets to fund the spending rate.
The company had $10.4 billion in long-term debt at the end of 2018, versus $6.5 billion year earlier.
So when will Netflix take its foot off the gas pedal on content spending?
After paying $15 billion for a "sustained ramp in its original content slate in '19," Netflix's cash content spend growth will "moderate" in the years ahead, BMO Capital Markets analyst Daniel Salmon said in a research note. He anticipates Netflix's content spending will hit $17.8 billion in 2020."
Industry experts know that it takes more than good content to attract an audience. Marketing is also important.
"Meanwhile, as Netflix continues to write huge checks for programming, it also has massively increased marketing spending largely to promote those originals. Marketing costs grew 65% in 2018, to $2.37 billion.
Analysts see that growing in 2019 — albeit less dramatically — by 22%, to nearly $2.9 billion.
One reason Netflix is continuing to make big investments now is that it's going to face serious new streaming competition from media giants Disney, WarnerMedia and NBCUniversal starting later this year.
So it's focusing on building out a wider moat instead of delivering profits, a strategy Wall Street continues to praise.
"We believe [Netflix] could, if it chose, ramp margins more quickly by limiting growth in its substantial investment in global marketing and production, but it is (wisely) playing the long game," Morgan Stanley's Ben Swinburne wrote in a note [recently].
Not all analysts agree, as CNBC noted. "The greatest innovation that Netflix is capable of producing is already in its past, according to some tech experts.
"Think about how disruptive they can be. … Think about Amazon, Apple, Google [Alphabet]. … They will change the world dramatically, so it will be easier to build high-multiple models for them, " said Gene Munster, managing partner of tech investment firm Loup Ventures.
"In the case of Netflix, they won't change the world again … and I struggle with that question," Munster said.
The tech investor said the success Netflix has had in capturing a significant portion of the legacy broadcast television audience through its online streaming service does not equate to an outsized multiple over the next decade.
The recent earnings and performance of Netflix shares indicate that if the tech investor turns out to be right, a lot of Netflix shareholders may be left holding the bag. Netflix has outperformed the FAANGs (Facebook, Apple, Amazon and Google's parent, Alphabet) so far in 2019.
It was trading at a price-to-earnings ratio near 130, [recently]. Apple was trading at a P/E of roughly 13; Facebook at 21; Alphabet at 40. Amazon is the closest to Netflix, with a P/E just over 100."
But Netflix may have problems in the near term because of its high debt levels, and the debt could be a problem because Netflix hasn't really changed anything. According to Forbes, "Netflix changed how we watch TV, but it didn't really change what we watch…
Netflix has achieved its incredible growth by taking distribution away from cable companies. Instead of watching The Office on cable, people now watch The Office on Netflix.
This Edge Isn't Sustainable
In a world where you can watch practically anything whenever you want, dominance in distribution is very fragile.
Because the internet has opened up a whole world of choice, featuring great exclusive content is now far more important than anything else."
Netflix "now invests more in content than any other American TV network.
To fund its new shows, Netflix is borrowing huge sums of debt. It currently owes creditors $10.4 billion, which is 59% more than it owed this time last year.
The problem is that no matter how much Netflix spends, it has no chance to catch up with its biggest rival…
The Walt Disney Company (DIS) is one of America's most iconic companies.
Walt Disney created Mickey Mouse way back in 1928. Over the following eight decades the company built an empire.
Over 160 million people visited its theme parks last year. And it's among the world's largest media companies.
But over the past decade a core part of its business has been disrupted.
More than a third of Disney's revenue comes from its cable business. As you may know, Disney owns leading sports network ESPN and ABC News.
It makes money delivering this content to millions of Americans through cable providers like AT&T. As you can imagine, cord cutting has hit this business hard.
Disney's cable business has stagnated over the past seven years. But in about 175 days, Disney is set to launch its own streaming service called Disney+.
It's going to charge $6.99/month—around $6 cheaper than Netflix.
And it's pulling all its content off of Netflix."
This could explain why NFLX has been in a trading range for some time.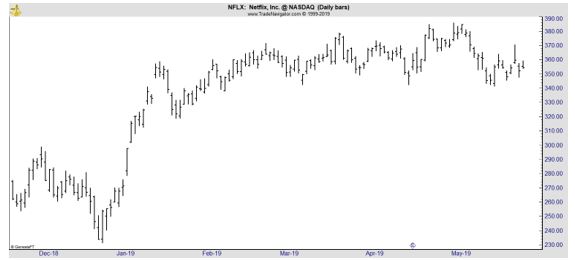 And the trading range could be an indicator of a top.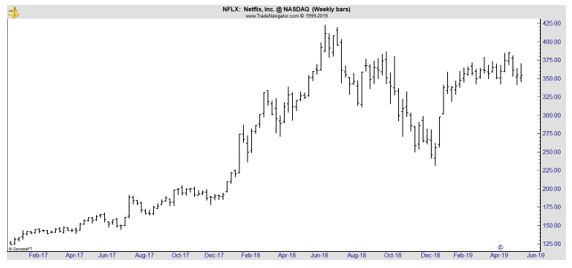 The stock is risky at this point because the company faces new challenges, at a time when its debt is becoming a concern. Now could be an ideal time to consider put options on Netflix.
Special:
The Only 8 Stocks You Need for 2020