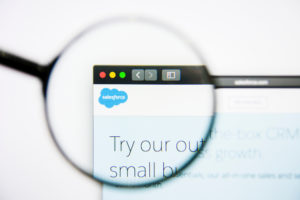 Salesforce.com Inc (CRM) was in the news a couple weeks ago as the company announced plans to issue 500 COVID-19 recovery grants for small businesses across the U.S. That amount represents nearly 1/3 of the small businesses that use the Salesforce platform. Those gifts are also part of a bigger effort they are a part of to gives millions of dollars in direct grants for small businesses.
As you consider the performance and fundamentals of the company, CRM has a long-term debt-to-equity of 13.6%, which is among the lowest of comparable tech companies. They also boast an interest coverage ratio of 13.62 and a cash-to-debt ratio of 1.35.
While the company's debt and liquidity seem to be in a good position, the CEO, Marc Benioff, sold 50,000 shares this week in three separate transactions with a value of over $7.8 million. Given that he owns over 30 million shares still, that isn't a huge amount, but he's been accompanied by several other insiders in the months of April to sell. The last insider buy was on March 24, 2020 and the one prior was on February 12, 2020. Out of 109 insider transactions this year, only three have a been buy transactions.
(ALERT) Google Just Poured $4 Billion Into THIS…

Companies all over the world are funneling as much money as they can into what Bill Gates calls, "the holy grail" of modern technology.

It's fresh out of a highly secretive lab in Boston, Massachusetts, and it's poised to make early investors billions.

It's NOT cannabis. It's NOT bitcoin, or some other blockchain-related technology. It's NOT 5G.

And it could be bigger than all of those. You could be looking down the barrel of 5,000% profits or more.
Action to Take: CRM has pulled back to a near term support near $150 and has been holding it through the end of last week. The down day last Tuesday came with higher selling indicating a significant area of resistance near $165. The selling isn't a strong indication to sell the stock but to temper expectations. The stock is a near-term bullish opportunity to the $165 target level.