Earlier this month, President Trump issued an executive order that will ban American telecommunications companies from installing foreign-made equipment that could pose a threat to national security.
According to The New York Times, "Mr. Trump declared the threat posed by foreign adversaries on American telecommunications networks a national emergency under a law used to impose sanctions against nations like Iran and Russia."
The order did not single out any nation or company, and White House officials called it "agnostic."
But the Commerce Department separately placed Huawei and its dozens of affiliates on a list of firms deemed a risk to national security and will prevent them from buying American parts and technologies without seeking U.S. government approval.
The Trump administration has criticized Huawei for months, arguing that it and other Chinese companies could spy on or shut down U.S. communications on behalf of their government if their hardware is used in next-generation 5G wireless networks. Huawei has denied such accusations.
The order "left many questions unanswered," Ms. Kang and Mr. Sanger write, "including how the department will define foreign adversaries and establish criteria to ban companies from selling equipment to the United States." It's also unclear how rural carriers will cope, because they need the kind of cheap hardware that Huawei provides.
And it will escalate tensions with China amid a continuing trade war, in which the two nations have been imposing hundreds of billions of dollars of tariffs on each other's exports."
Adding detail, reporting indicated, "the Commerce Department announced that U.S. companies will need special permission to sell some products to Huawei.
Of the $70 billion that Huawei spent on components and other supplies last year, $11 billion went to American companies, a Huawei spokesman told [an analyst].
How much will it hurt? That depends on the range of products the ban turns out to cover, and how willing the Commerce Department is to grant exceptions. Early indications suggest not very.
"The effect could be catastrophic" if Huawei is cut off from companies like Qualcomm, Intel and Broadcom, which supply it with chips, or Google, whose Android software powers its phones.
Huawei saw this coming. It has stockpiled components "for uncertain times," Guo Ping, a deputy chairman of the company, told reporters in March. It has also tried to find suppliers in other countries and invested in making its own chips.
But "Huawei still depends on American suppliers for enough critical components that an all-out export ban from Washington would create a sizable headache," [the analyst] concludes."
Analysts at Empire Financial Research noted, "the market is significantly discounting the importance of the Huawei executive order. Trump's attempt to ban Huawei will force Xi's hand into an all-out trade war because he cannot back down on this.
Huawei is controlled by the military branch of the Chinese government. Although many people look at China as a monolithic one-party system, there are actually three competing factions. The military, the strongest faction, has massive investments in the economy – and hence massive income sources from it.
(It is the largest standing in the army in the world. Part of the reason that Xi cannot negotiate the removal of the artificial islands in the South China Sea is that it is an entirely military operation.)
An attack on Huawei is an attack on a leading Chinese institution. The military is playing up nationalism and gearing up for war – economic or otherwise. I would expect China to stop a ship in the South China Sea and impound it for inspection."
Barron's offered investors a specific name to worry about, Apple (Nasdaq: AAPL).
"Wedbush analyst Daniel Ives on Wednesday wrote that investors may be too worried about the effects of further tariffs on Apple, shares of which are down nearly 5% this month. The iPhone is made in China and further tariffs could increase the cost of assembling it.
"The more concerning issue is around any hit in demand if Apple feels the noise in China and any pro-Huawei sentiment negatively impacting sales in the near term," wrote Ives, who has an Outperform rating and a $235 price target, about 10% above FactSet's $214 average, on the stock.
In early January, Apple CEO Tim Cook revealed a dramatic slowdown in Chinese revenue as economic pressure was exacerbated by trade tensions. In the six months ended March 30, revenue from China fell about 25% year-over-year as the overall topline dropped 5%.
Other analysts have expressed worries about Apple's reliance on Chinese manufacturing, wondering whether the company might raise prices on some of its products to offset future tariffs or keep prices in place, taking a hit to profits."
The news does come as Apple has been unable to reach new highs.
This marks a potential divergence for Apple since the Nasdaq 100 Index, a tech heavy index of stocks that allocates a large weight to Apple, has reached new highs in the recent rally.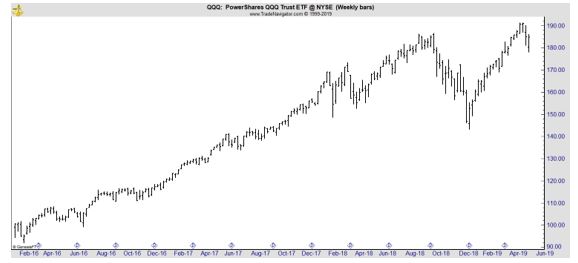 Apple does represent a potential target for China in the trade war that does appear to be developing with the US. Unfortunately, the trade war is beyond Apple's control however the company is a visible target and could easily be targeted by Chinese officials seeking a symbolic move.
Not all analysts are worried and at least one sees a potential triple digit move for the stock.
"At least from a technical analysis perspective, Apple's stock is poised to laugh in the face of President Donald Trump's raging trade war with China.
Apple's stock has formed what traders call a "golden cross" chart pattern. The formation — typically a bullish signal —happens when a short-term moving average crosses over a longer term moving average.
One could see that formation below for Apple, compliments of Miller Tabak strategist Matt Maley. It's interesting that the stock has made this pattern considering the fundamental risk to Apple's business model from the now heightened U.S.-China trade war.
Maley notes that Apple's stock has acted very well after its last three golden cross patterns. Actually, the gains that have ensued border on insane — Maley's research shows gains of 530%, 110% and 130%, respectively, over the past decade.
"If things calm down [on the trade front] (which might be a BIG "if"), the upside could be quite bright for this Apple," Maley says.
Maley isn't all in on Apple, however. While the stock may be poised to rally, it's not without greater than normal risk for the tech giant."
It is important to remember that the risks are high, and the large gain is predicated on a single example. Traders should be cautious when considering Apple at this point.