Marijuana is facing the possible end of prohibition and investors need to consider the possibilities associated with that. Under prohibition, marijuana became a multi-billion dollar industry. Its products were differentiated by quality but for the most part maintained the same form.
Legalization opens up research and development opportunities. Already, marijuana is available in a variety of forms including edibles, oils and different strains targeting different ailments under medical usage.
While small companies are exciting to invest in, large companies could be the key to the introduction of new products since the large companies have the capital to invest in development and distribution efforts.
A Potential Giant in the Industry
Among the companies that could revolutionize the marijuana industry is Constellation Brands, Inc. (NTSE: STZ), an international beverage alcohol company. The company is a producer and marketer of beer, wine and spirits with operations in the United States, Canada, Mexico, New Zealand and Italy.
STZ sells a number of brands in the import and craft beer categories, including Corona Extra, Corona Light, Modelo Especial, Ballast Point and others. Some of its wine and spirits brands sold in the United States include Meiomi, Robert Mondavi, Wild Horse and others.
Last August, according to CNBC, STZ added $4 billion to an already large stake in Canopy Growth Corporation (NYSE: CGC). This has been a volatile stock since that investment was announced.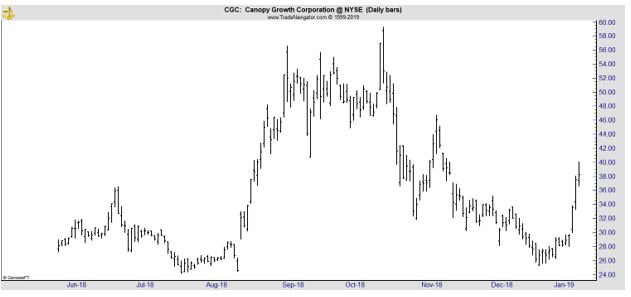 At that time, the business network noted, "STZ had previously taken a 9.9 percent stake in the Canadian cannabis company. The deal included the option for future investments, giving Constellation a first toehold in an industry the brewer said it expects to soon be legalized across the United States.
With this latest investment and the execution of some warrants, Constellation says its stake will become 38 percent of Canopy. Constellation also received an opportunity over the next three years to buy up to 139.7 million in new shares, which represents up to $5 billion in additional funding. If Constellation utilized those warrants, it could raise its total stake in Canopy to more than 50 percent.
"Over the past year, we've come to better understand the cannabis market, the tremendous growth opportunity it presents, and Canopy's market-leading capabilities in this space," Constellation Brands CEO Rob Sands said in a statement.
"We think the premium paid as well as the size of [Constellation's] investment reflects the long-term attractiveness of the global cannabis opportunity," Cowen analysts said in a note Wednesday. The firm says Constellation's expectation for the deal to be accretive by fiscal year 2021 is also encouraging."
Expansion Could Boost STZ
Late last year, Investors.com noted STZ acknowledged "the possibility of selling nonpsychoactive cannabis drinks in the U.S. if lawmakers clear a bill legalizing hemp, and the beer giant said it was "extremely bullish, if not more bullish" on Canopy Growth since its initial investment."
The company sees possibilities "for CBD, or cannabidiol, which is often advertised as an anxiety and pain reducer. CBD is also a component of marijuana plants.
During Constellation's conference call, an analyst asked whether the company or Canopy might handle the potential sale of CBD beverages. In response, CEO Rob Sands said: "The answer is both."
He added that Canopy was already one of the world's largest CBD producers. CBD drinks would be distributed through its sales network to retailers. That element, he said, would be reflected in Constellation's business."
Other companies considered this as well. Coca-Cola has said it was "closely watching" the growth of CBD as an ingredient in wellness-themed drinks. PepsiCo said it had "no plans at this point" to pursue CBD drinks but would look "very critically" at the space.
Molson Coors said its Canadian business would partner with a Canadian cannabis company to test out cannabis-based beverages. Other big alcohol companies say they're watching the cannabis industry closely.
This is a new market and Sands said he sees "no evidence whatsoever," especially in U.S. states where pot is legal in some form, that marijuana was cannibalizing alcohol.
At that time, the CEO believed Constellation was in "the best position in the world of any company" to take advantage of the growing cannabis market."
A Pullback Provides an Opportunity
More recently, CNBC reported "shares of Constellation Brands fell after the Corona brewer tried to offset its disappointing wine and spirits business with the latest craze: cannabis.
Global alcohol consumption has been dropping as consumers find other vices — like marijuana. As a way of moving beyond its wine business, Constellation has been pushing into the cannabis industry.
President and COO Bill Newlands, who will succeed Bob Sands as CEO in March, has been overseeing the wine and spirits business as the company decides on a strategy to address its disappointing performance.
"We've have been challenged by the lower end of our [wine] business, which in totality has been flat or down," Newlands told analysts on the conference call. "We continue to be slightly overweighted in that sector of the business."
Its lower end wine brands include names like Mondavi, Ravenswood and Ruffino, which sell bottles for under $11.
But Constellation's push into cannabis has yet to pay off. Because of volatility, the company said that it wrote down the value of its Canopy stake by $164 million in the third quarter.
It had financed the deal with debt, and the interest expenses are expected to shave 25 cents off its per-share earnings for the year, according to the company's estimates. The stock was down on this news.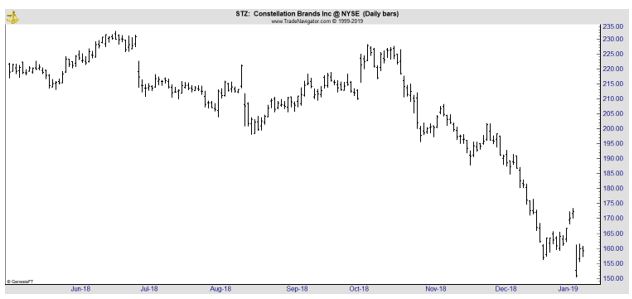 Constellation Brands said it expects to earn $9.20 to $9.30 per share for the fiscal 2019 year on an adjusted basis, missing analysts' expectations of $9.43 per share. Last quarter, it estimated earnings per share of $9.60 to $9.75 for the fiscal year. That outlook excluded any impact from the investment.
"While we remain bullish on [Constellation's] positioning in beer and its [long-term] opportunity especially with its investment in Canopy Growth, we believe it is urgent that STZ address its low end wine business," Wells Fargo analyst Bonnie Herzog said in a note.
Valuation of the company is low with a price to earnings (P/E) ratio at half the long-term average.

Source: AAII.com
The selloff could provide a buying opportunity for patient investors and marijuana could deliver large gains for this company that entered the market early and has now offered more patient investors a chance to enter at a price that represents a potential bargain.