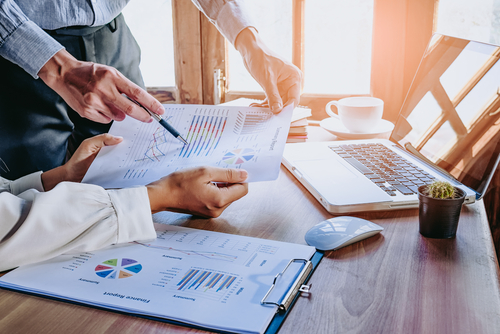 These firms have the staying power in any market.
There's an old saying that every general is prepared to fight the last war. Likewise, many investors are concerned that the next bear market will be like the last.
As a consequence, it's been a tough decade to invest in many financial company stocks. Nobody wants to have one of their positions be on the news over whether or not it will go bankrupt or get bailed out by the government! But the finance sector has plenty of opportunities.
Disruptive Tech Could Bankrupt Big Oil

The most powerful oil companies in the world are terrified of this breakthrough and what

it's going to do to disrupt their industry. Ex-Wall Street broker says early investors could get rich.
Finance Stock #1: The Progressive Corporation (PGR)
Many investors are so fearful of banks that they overlook a great place to invest in the financial sector: Insurance. Insurance companies are regulated at both the state and federal level. And while regulation turns off many potential investors, those regulations tend to benefit the insurance companies, and thus their shareholders over time.
Progressive Corporation (PGR) is one of the largest insurance plays, with a focus on automobile insurance. The company has been growing its premiums by over 11 percent year-over-year, and has a combined ration of 92.3, showing an underwriting profit.
Nevertheless, shares have traded flat in the past year, giving them a 10 percent relative underperformance to the stock market. With shares at 12 times earnings, they're an attractive buy, especially as the big name continues to show reasonable growth prospects.
Besides paying $0.10 in quarterly dividends, the company also pays out a special annual dividend based on its earnings. While it can vary, this dividend was $2.51 in early 2019, making for nearly $3.01 in annual dividends last year. This mix of minimal dividends and an earnings-based payout is a more unique way of rewarding shareholders, but a lucrative one.
Shares are a buy up to $70.00.
Finance Stock #2: American Express (AXP)
With a focus on the banks, processing companies like credit card providers are still giants in the financial industry. Even with the rise of alternative payment methods, these companies have cemented themselves as alternatives to cash and with many convenient benefits such as rewards and cash back options.
In this space, American Express (AXP) is the industry leader. The company has focused its efforts on getting higher-end consumers, who tend to spend more. While their card isn't accepted in as many places as a result, American Express continually earns high profit margins as a result—over 18 percent on every card swipe. Catering to higher-end markets is a great long-term trend for any growing economy.
Shares of American Express are also cheaper than the overall market at 12 times earnings, although shares are up more than the overall market in the past year. The company's dividend is no slouch at 1.5 percent, and the company's history of dividend growth make this a great holding for the long haul. Shares are a buy up to $120.00.
Finance Stock #3: Annaly Capital Management (NLY)
If you truly expect the financial sector to fare well, one way to make a big bet on that trend is with a real estate investment trust (REIT) that specializes in mortgages. By owning claims to housing, it's an exposed operation… and these companies juice their returns with leverage.
The industry leader, Annaly Capital Management (NLY), has about 10 times as much debt as equity. That's usually a scary concept, but with that leveraged money invested in Fannie Mae-backed home mortgages, which are insured by the government, the company is able to make a profit and pay it out to shareholders. In fact, the company breezed through the Great Recession just fine… it really only started to have trouble after years of low interest rates and mortgage refinancing activity pushed the cash flow of mortgages down.
While the dividend has been reduced to reflect lower mortgage income from lower interest rates on average, the current yield is a staggering 11.1 percent at present. This makes for a great holding for anyone seeking current high income, rather than the income-growth plays elsewhere in the financial sector. With that kind of income return, investors shouldn't expect much—if any—capital gains.
Shares are a buy up to $9.00, which is also the book value of the company—the value of its portfolio of loans.
Final Thoughts:
There are plenty of ways to stay invested in the financial sector. While banks get the biggest fears, even as they're starting to do better, there are plenty of other parts of the market where there are opportunities to get solid, industry-leading companies at a huge discount to the overall stock market. And most of those companies also give investors steady, if not growing, income for their investment dollars.