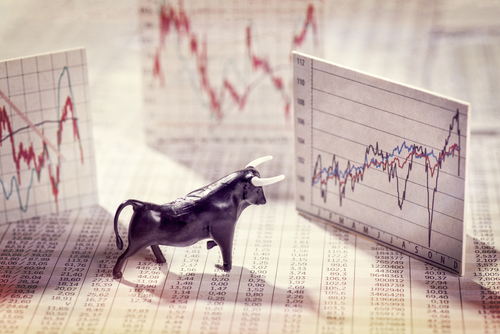 Insiders making recurring buys show long-term investment opportunities.
Insider investing is a great tool. It can cut through a lot of the market noise, and get down to the brass tacks of investing: Where can a profit be made?
After all, corporate insiders, like a CEO, CFO, and others, have a lot of knowledge about a company, far more than what's disclosed in quarterly earnings reports. When they buy their own shares, it's for one reason only: Shares are undervalued and likely to move higher.
Special:
The Only 8 Stocks You Need for 2020
Of course, the market may take time to catch up to the opinion of these insiders. That's why astute insiders keep adding to their stake as the market remains out of favor. We've found three companies where insiders have been coming back time and again in the past year to buy shares.
Repeat Insider Activity Stock #1: Keurig Dr Pepper (KDP)
Consumer goods companies can be the right portfolio fit for just about any environment. Although Keurig Dr Pepper (KDP) has struggled since the merger of the coffee and cola companies into one, that hasn't stopped insiders from coming back to buy shares time and again.
Since mid-2018, there have been a large number of insider buys, with only one big insider sale. That insider sale came from a fund that owned a large amount of shares, whereas the insider buys have come from directors, the head of HR, the company Corporate Affairs officer, and many more.
Why are insiders coming back to buy more shares? It's likely in part because shares have underperformed the market, up just 4 percent in the past year. Yet the company has been growing its earnings and revenue by triple-digits. While the company isn't the biggest player in its segments, it still manages to profit from the portfolio of brands that it does own.
Add in a 2.1 percent dividend yield, and even with shares trading sideways, it's a better bet than cash in the bank. Shares are a buy up to $28.50.
With the share price starting to move up in the past few weeks, and with shares occasionally popping up over $30, speculators may want to look at the April 2020 $30 calls. For about $1.00, or $100, it's a bet that could double on the next pop in shares, which could occur as early as November 7th when the company next reports earnings.
Repeat Insider Activity Stock #2: Opko Health (OPK)
One of the advantages of following insiders is finding smaller, off-the-radar plays that Wall Street has little knowledge of. These companies may not have much of a following, but that can be an advantage if shares have a history of making some upward and downward movements that can be replicated for repeat profits.
That appears to be the case with Opko Health (OPK), where CEO and Chairman Dr. Phillip Frost is a repeat buyer of shares in the company. In fact, thanks to Frost's regular and large buys, insiders in total own nearly 42 percent of the diagnostic and pharmaceutical company.
Given the share price history of the past few years, buying in the $1.50 range or lower is usually a great trade, as shares periodically pop up to $2.00 or more, for a 25 percent gain. Even though the share price is down overall in the past year, buying during these drops and selling into strength is a great way to profit time and again from the same company.
Consider starting a position at or under $1.55 per share. Given the low share price, speculators should just stick with shares and treat them as options that don't expire. But look for a chance to take profits around $2.00 or better, and for the opportunity to repeat the process in the future.
Repeat Insider Activity Stock #3: Kinder Morgan (KMI)
CEO Richard Kinder started pipeline giant Kinder Morgan (KMI) in part out of assets sold off from Enron back in the 1990's. But don't let that scare you off— KMI got real assets and Enron built a paper house of cards that quickly collapsed.
With the huge amount of oil and natural gas development thanks to the shale revolution, it's no surprise that pipeline companies look like an attractive investment. Kinder thinks so, given his regular and large, million-dollar-plus purchases of shares. In total, insiders own over 13 percent of company shares.
Although the price hasn't seemed to move that much, shares have already beaten the S&P 500 index in the past year. And with an increased dividend to $1 per share, the current price gives investors an income of just over 5 percent. With that kind of income return, even slow capital gains will lead to great long-term returns if the income is reinvested. At 19 times earnings, shares aren't exceptionally cheap, but they're still cheaper than the overall market.
Investors should wait for an opportunity to buy shares under $20.00, a price the company trades around often. Speculators may want to go elsewhere for a faster trade, but investors who buy under $20 and sell covered calls with a $21 or even $22 strike price will likely be able to more than double their income as shares continue their slow grind higher.
Just Released: The Top 8 Stocks to Buy for 2020

Inside this Stock Research Report: The only 8 Stocks you need for reliable growth…how this pizza stock turned $10,000 into over $1 million…50 lousy stocks to dump now, and more!  These stocks don't make news. They just make money.