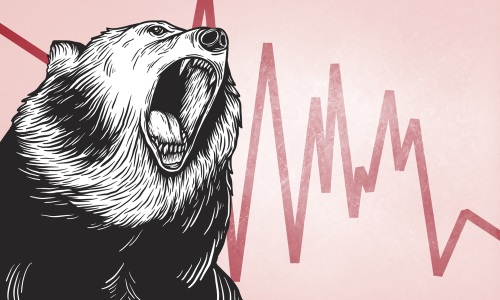 These companies have already gone through their own bear market.
There's an old saying that the stock market takes the escalator up, and the elevator down. In other words, stocks fall faster than they rise. While many investors are wary of the overall market valuations out there after a decade-long bull market, there are still plenty of names that are cheap.
In fact, they're a good argument for higher markets. It's when all companies, start to move higher together that the market is getting into its final speculative phase.
Looking at some of these companies that haven't gone along for the ride, there are three buys here that could do better than the overall market going forward. It may be because these stocks are overdue for a catch-up rally. Or it may be because they're likely to fall less in a market decline. Either way, they look like interesting investments for bargain-hunting investors now.
Buy #1: Altria Group (MO).
The tobacco stocks have had a poor year. Altria Group has fallen from a high of $66 to $43, shedding about one-third of its value. That's a pretty steep bear market, given that tobacco companies are usually pretty stable investments.
But the market sentiment has shifted, partially thanks to Altria's ownership stake in vaping company Juul. With a number of health problems coming out from the use of vaping products this year, Juul has been somewhat in the hot seat. But as an industry leader, and given how many of the health problems are coming from third-party vaping products, these issues are likely to go away.
Investors who buy Altria up to $44 per share can earn a 7.9 percent dividend yield, a high enough return to provide a huge cash cushion. But they'll also likely see shares move higher as the recent fears pass. Altria shares trade at less than 10 times earnings, and look like one of the most attractive buys on the market right now.
Buy #2: Kraft-Heinz (KHC).
Shares of food giant Kraft Heinz have been cut in half in the past year. The company, a product of a big merger, has faced several accounting issues owing to the declining power of the brand—and the fact that putting the company together required overpaying for shares. This accounting goodwill, which is listed as an asset, has turned out to really show that the company is a liability.
But after two quarters of major write-offs, the company's CFO has recently been replaced. It's likely that the pace of accounting issues is likely to slow. Even better, members of 3G Capital, the largest holder of company shares, are buying at these prices to take advantage of the deal—all while the corporate entity takes in a loss by selling shares at low prices. This stealthy transfer of wealth to those "in the know" is a good sign that the worst is over for the company.
With that problem starting to go away, we're left with a good giant that's trading around 10 times forward earnings. And the company's dividend, which was somewhat scaled back, is still 5.7 percent at current prices, well above the historical average of both companies. Shares are a buy up to $28.00.
Buy #3: General Electric (GE).
General Electric was the worst performer of the Dow Jones Index for two years running—so in 2018, it got booted from the Index. Since then, however, it's faring somewhat better.
The company has been working over the past few years to right-size to an industrial firm, selling off financial divisions and other assets that moved the company away from its core business in jet engines, turbines, and other key machinery. The process has been slow going, but it appears to be bearing fruit. The company is also working to reduce its legacy costs by freezing pension plans and increase the use of more flexible tools like 401k's.
While the company is only down 24 percent year-to-date, it's well off its highs and gradually pushing higher. At 14 times earnings it's the most expensive name on the list, but if it keeps making the right steps, it could turn into a pure-play industrial powerhouse once again—or sell off all its various divisions for more than shares are currently trading for. That makes this an interesting opportunity up to $9.50.
Final Thoughts
Companies move in and out of favor with the market all the time. Investors who buy out-of-favor names can get market-beating profits as those companies move back in favor. They can also often get above-average dividend yields, and make out like bandits as they wait for a recovery.