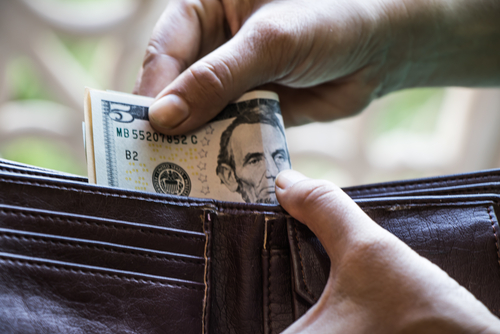 These low-priced shares are also a bargain.
There are a lot of potential investment opportunities for smaller traders that can beat out the so-called experts.
That's because organizations like insurance companies and hedge funds have rules about what they can invest in. One such restriction is to avoid stocks under $5 per share, also known as "penny stocks."
Urgent: To Any American Who Owns A Cell Phone

If you own a cell phone, then mobile service providers hope you never get to see this video going viral.

It was shot in downtown Denver by a multi-millionaire, who exposed sensitive truths about cell phones and 5G.

His experiment will strike a bad chord with cell phone companies, I know. But you've got to see what this man "leaked," and what it means for phone users in the weeks ahead.

Click here to see this developing story.



While it's easy for a big fund to potentially move a market with low-priced shares, individual investors don't have that problem.
That's because price isn't necessarily indicative of value. A $100 stock may be cheap, or a $10 stock may be expensive.
So while many $5 stocks may not be worth much more, a handful of names are likely to provide market-beating returns in the months ahead.
$5 Stock Play #1: NIO Limited (NIO)
Feeling left out following the massive rally in electric carmaker Tesla Motors? Don't. There's another opportunity in the fast-paced world of electric vehicles, and it's also in a sub-$5 stock that could likewise soar in the years ahead.
That's the case with Chinese electric car maker NIO. Shares struggled in the past year, sliding 48 percent, largely thanks to the trade war fears holding back Chinese companies, and now the coronavirus.
And like Tesla in the U.S., electric vehicles lost some of their best government subsidies last year, taking a bit of wind out of the sails.
But with new models on the horizon, and with the Chinese government's plan to keep remaining electric vehicle subsidies stable this year, shares look likely to outperform.
A turnaround couldn't come at a better time. Things look bleak, much as they did for Tesla a year ago. The company has negative earnings, negative assets, and negative cash flow.
The only thing looking good right now are revenues, up 25 percent from a year ago. That, and company insiders own 52 percent of shares—and they're holding on.
This is a very volatile name, but potentially one capable of creating tons of wealth for buyers now. We like shares up to $4, still well off their 52-week high over $10.
For speculators, the January 2021 $5 calls, going for about $1.10, look attractive. On a run-up to $10, the option could move in-the-money, so traders would start to profit as soon as shares cleared $6. Hitting $10, the option would be worth $5, offering nearly $4 in profit. Not too shabby!
$5 Stock Play #2: Yamana Gold (AUY)
While we like the royalty plays in the precious metals space right now, it's an undeniable fact that gold prices are in an uptrend. Over the past few years, gold has been moving higher.
It hasn't done so with the sort of mania that occurred in 2011, right before gold went into a multi-year bear market. So in terms of sentiment, there's room to go.
While the royalty companies can make a big profit margin, traditional mining companies are great plays when gold prices are in the spotlight as well.
That's why it's no surprise that Yamana Gold shares are up 40 percent in the past year—and will likely beat the market as long as gold is in an uptrend for the next few years.
Although the company has struggled on earnings and revenues—gold miners often do; their moves are based on the price of gold as well as new discoveries most of the time—things are looking up. The company still trades under its book value, or in the case of a miner, the value of all the economically extractable gold in its reserves.
And with a share price under $4, most investors should have no trouble getting in and going along for the ride.
Best of all, the company also pays a 1 percent dividend yield. While only a penny a quarter, it was recently raised from $0.03 per year.
We like shares up to $4. If shares have a good day and trade over that price, just be patient.
Gold prices can be volatile, and gold miners even more so. Yamana has a beta of 1.64, making it more volatile than average. Take advantage of that to get into shares cheaply ahead of the next rebound!
Speculators may like the January 2021 $4.50 calls. They're going for about $0.46, or $46 per contract. In a surging gold market, however, shares of this company could rise well past five. In the prior bull market for gold, shares traded over $10.