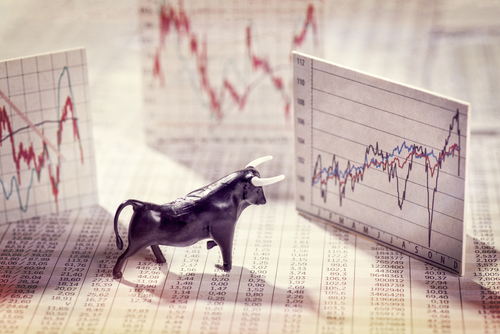 These companies can deliver superior returns this year.
Some traders are getting cautious after the recent market rally.
While some see a potential 10-15 percent correction at some point this year, investors have a few options. They can take some profits and go to cash, avoiding a possible drop.
Or they can invest profits into companies likely to continue executing well this year. By taking the latter route, investors can set themselves up for further success, rather than risk missing out on big sources for profits in 2020.
We've found two plays that have been moving up, look bullish, and are showing strong operational strength that should send shares even higher in the next year. Best of all? Both could even get bought out by bigger companies thanks to these favorable trends.
2020 Bull Market Play #1: The Trade Desk Inc (TTD)
Sure, shares already more than doubled in 2019. But there's a lot more room to run, as the company's fundamentals and technical indicators still look incredibly bullish.
The Trade Desk provides self-service omnichannel software for purchasing and managing digital advertising campaigns. That's a huge area and one with a lot of growth still to come in the days ahead, more than justifying a further move higher for shares.
In the 11 years since the company started, it's grown to a $12 billion enterprise, but with revenues growing by nearly 38 percent, there's room for further growth. The company's profit margins, at 16 percent, are better than many industries but could still improve to higher levels, to the benefit of shareholders.
And, with more cash than debt on the balance sheet, there's very little leverage, one of the most important factors to consider in a market selloff or economic slowdown when fear rises.
Although the $12 billion market cap seems daunting, besides growing, this is a company that could get bought out by a large firm, particularly one that does a lot of work in digital advertising, up to and including major names like Microsoft and Google, as each look to compete with each other over cloud services.
With all of these factors in mind, we like shares up to $290. That's just shy of the company's all-time high of $293, but this could be a $500 or $1,000 stock in a few years if the company continues along its current growth path.
Speculators may like the July 2020 $300 calls. While a bit pricey at $40, or $4,000 per contract, it's far cheaper than shelling out nearly $30,000 for shares right now, and if the uptrend continues, these options will start moving dollar-for-dollar as they move in-the-money.
2020 Bull Market Play #2: BlackLine (BL)
This software as a service company provides financial accounting services worldwide, with a focus on its products complimenting existing resource planning and other financial systems.
It's become one of the leading firms in a fast growth market, thanks to a partnership with Google Cloud announced last year.
Shares beat the market by 5 percent in the past year, but more importantly, since going public in late 2016, shares have been heading gradually higher in time.
But the real returns may come this year, as the company looks set to finally shift from quarterly losses to hitting profits. That's because the company lost money last year, at least barely, but with earnings growing by nearly 26 percent, it's on track to start rewarding shareholders with profits as well.
As that happens, further investors and institutional interest should send shares higher. But it's also likely that, as a smaller, fast-growing software company, that larger rivals may be interested in buying out the shares. It could even get a buyout offer from Google, which could then better integrate it into its cloud service.
They'll need approval from company insiders, who own nearly 15 percent of shares. It won't be cheap for whoever wants all the shares, but it could be lucrative for investors now.
We see shares as a long-term buying opportunity given that the company is on the cusp of profitability after years of strong growth.
Investors should pick up shares up to $57.50. The stock has some pullbacks, but has yet to have any steep selloff, so bargain-hunters may have a tough time picking up additional shares at lower prices.
Speculators are somewhat limited on options trades, as they only go out to August. But the August $55 calls, already about $2 in-the-money and priced at $7.50, could be a worthwhile buy if the current uptrend in shares continues.