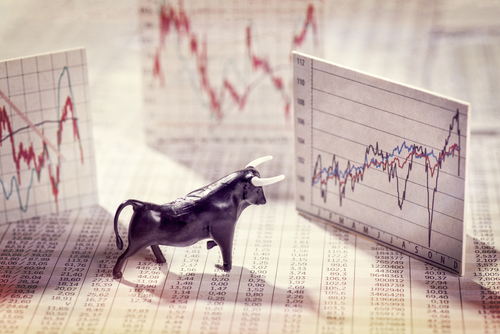 These companies can deliver unexpectedly good returns in the next few weeks.
With the stock market hitting all-time highs and with many retail names looking optimistic going into the year's end, the best values in the market going forward will be in companies with lower prospects.
By focusing on companies with lower expectations, investors get better valuations going in, and if it's a dividend-paying company, they get a higher starting yield.
Best of all, when these out-of-favor names move in favor with the market, investors will get a nice boost in capital gains.
We've got two companies that are out of favor with the market, one briefly following its latest earnings, and one that's been out of favor this year. Both look like they'll do well in the final weeks of 2019.
Year-End Deal #1: Home Depot (HD)
Shares of the home improvement retailer had a modest drop following their most recent earnings report, when the company saw slowing spending on their products and a drop in same-store sales.
That's knocked nearly 8 percent off the share price from the peak. While that doesn't create an exceptional value, it does give a better entry price on an industry-leading company.
What's the secret to our bullishness here? We have a retail play that isn't as susceptible to competition from the likes of Amazon compared to apparel or books. When you need to fix a plumbing part at your home, a two-day delivery time may not be fast enough.
And, with the recent data showing strong new home sales and appreciating home prices once again, homeowners will want to look toward completing projects that help enhance the value of their homes.
Finally, while investors were shortsightedly focused on the company's same-store sales, and the company's caution going into the last quarter of the year (where they're less vulnerable to a weak quarter than other retail operations), earnings at Home Depot continued to grow.
All told, the company is a long-term winner, one that traders love, and one that's going to continue to provide value to investors for year to come. While shares have had a great rally this year, the recent pullback is just enough to consider making a buy here with the potential for a surprise rebound to new all-time high by the end of the year.
Besides trading near the overall S&P 500 Index at 21 times earnings, the company has a 2.5 percent dividend yield, beating out the index on that front. More importantly, this is one company that should thrive in any economic environment. When the housing market was slow, Home Depot continued to grow sales and earnings as homeowners continued to maintain and improve their existing homes.
Shares are a buy up to $225, but can be bought for under $220 right now. Speculators may like the opportunity in the June 2020 $230 calls. While trading for just over $8 or $800 per contract, it's a way to bet on 100 shares moving up in the first half of 2020 and making a run at a new all-time high.
Year-End Deal #2: ExxonMobil (XOM)
It's been a tough year for energy prices. After a spring rally in oil prices, they've stayed stuck in a range, even with geopolitical events like the crippling of infrastructure in Saudi Arabia. Add in the decline in natural gas thanks to the fracking revolution and the explosion in production, and there's little market sentiment in the energy space.
That's an opportunity, even a small one, thanks to the low expectations there. And in the energy space, investors have a chance for a reasonable price on an industry leader, ExxonMobil (XOM).
The oil giant has missed out on the market rally of 2019, thanks to the frustrating market for oil and natural gas. Shares are down 10 percent in the past year.
Yet the company is still profitable, despite the drop in earnings and revenue from lower commodity prices. But for a long-lived energy company like Exxon, this kind of situation is one they've seen before.
Typically, when the market is weak, smaller and more leveraged players end up in trouble. That's when companies like Exxon swoop in and pick up the assets of those weak companies at great prices. As a result of that, we see Exxon making some buys in the near-future that will allow the company to replenish reserves and grow its long-term value as a result.
We like shares of the energy giant up to $70 per share. Currently, with shares around $68.50, income-oriented investors will be pleased with the dividend yield near 5 percent.
Investors may also want to look at selling put options, such as the March 2020 $65 put. This will either allow shareholders to buy in at $65 if shares are trading below that in March, or pick up an extra $1.70 per share (or $170 per contract). If shares stay over $65, the put seller keeps the income without having to buy shares.