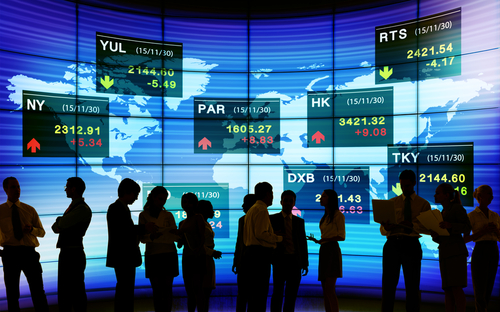 These firms are in an uptrend and have room to run this year.
Most investors tend to put their money into their home country. This is known as the "home country bias." For U.S. investors, it's been a pretty good deal for the past few years.
With sluggish economic growth in most countries around the world, there's little perceived need to invest internationally.
Urgent: To Any American Who Owns A Cell Phone

If you own a cell phone, then mobile service providers hope you never get to see this video going viral.

It was shot in downtown Denver by a multi-millionaire, who exposed sensitive truths about cell phones and 5G.

His experiment will strike a bad chord with cell phone companies, I know. But you've got to see what this man "leaked," and what it means for phone users in the weeks ahead.

Click here to see this developing story.



While there are many benefits, such as diversifying away from the dollar, the simple fact is that there are some great growth names out there trading at reasonable prices.
International Growth Play #1: Nestle S.A. (NSRGY)
This Switzerland-based food and beverage company has a well-known list of brands. It includes everything from Gerber to Perrier to Nesquik, Cheerios, KitKat, Lean Cuisine, DiGiorno, Haagen-Dazs, and dozens more.
More importantly, the company operates internationally, giving it access to the rest of the world without the issues that American companies may have with international investments. While global growth may be slow now, the gradual rise out of poverty and the growth of an international middle class bodes well for Nestle's portfolio of brands.
What it doesn't have is a lot of investor interest. That's because the company doesn't even trade on a major U.S. exchange, as many big foreign names do. Instead, shares traded off major exchanges, on what's known as the pink sheets.
That's too bad, because investors are missing out. So are institutions, which are mostly required to trade stocks only on major exchanges.
Consequently, Nestle is a $300 billion company by market cap with about 3 percent institutional ownership. This is an international trade, as well as one for smaller investors who don't want to see prices whipsawed as funds make large moves with their holdings.
In fact, Nestle has a beta of 0.3. That means it's about one-third as volatile as the S&P 500 index on average. Sure, markets are calm now, but in a panic, having a few low-beta stocks like Nestle can offer a lot of comfort.
Shares are up 27 percent in the past year, beating the S&P 500 Index by about 5 percent. And the company just reported solid earnings, although they did warn about the potential impact in Asian markets from the coronavirus.
With such a diverse basket of brands, Nestle earns a 10 percent profit margin, a fair level for a company in the consumer goods industry.
We like shares up to $110. At current prices, investors can pick up a 2.2 percent dividend yield here.
As the company doesn't trade on a major exchange, there are no options to trade in lieu of shares.
International Growth Play #2: Franco Nevada (FNV)
International growth plays come in all shapes and sizes, but most resource companies are headquartered in Canada. With a strong rule of law favorable to mining operations, it's a good place for investors to get started in diversifying away from the dollar.
We're no stranger to the company, as it's a great resource play. The best part about it is the business model, which relies on royalties. Thanks to this structure, it's difficult for the company to lose money, and it can be a multi-billion-dollar player in the space with a mere 34 employees.
But gold has a lot going for it right now. For the past four years, the metal's price has been in an uptrend, which automatically increases the profits going to Franco Nevada from its royalty deals. Add in the periodic market scare like the coronavirus outbreak, and it's easy to see why shares are likely to continue heading higher.
That's seen easily in the company's financials. Revenue is up 39 percent in the past year. Earnings are up a whopping 95 percent. And the company has a 28 percent profit margin, more in line with a technology play than a commodity one.
Shares are up more than 50 percent in the past year, but are likely to continue heading higher. That bodes well for investors. Looking at the overall market valuation, this stands out as a potential growth play with a solid international bent to it as well.
We like shares up to $114 based on these factors. The company pays a 0.9 percent dividend.
Speculators should look at the January 2021 $120 call options. Trading for around $9.30, they offer a leveraged play on gold prices in the next year. We suggest buying on a big down day for gold, then selling on an up day for a short-term profit rather than trying to run out the clock on this trade.