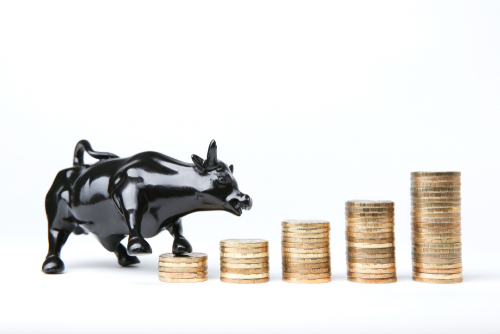 These companies may not lead their industry, but are still worth buying.
Big-cap names get a lot of attention in the market. It's easy to see why. With the rise of passive investing, more and more money automatically flows into companies that are already large.
That means that smaller players in competitive industries can still do well operationally, and can see their shares rise over time.
The #1 Indicator Used by Ultra-Wealthy Investors

There's a reason so few investors are ever able to beat the market: they've been lied to. They have no idea what really drives stock prices. When you discover exactly why stocks rise or fall, it's easy to avoid losers and find more, bigger winners. 
But as they don't get the attention of big companies, smaller investors willing to buy in could really clean up.
What's more, smaller companies either tend to grow and become larger companies, leading to huge returns for investors—or they tend to get bought out by these bigger companies. Either way, buying the smaller company can make more sense for patient investors.
Small Industry Play #1: FireEye (FEYE)
In the technology space, the past year has seen the rise of companies with trillion-dollar market caps. While those companies are focused on cloud services, it's companies addressing cyber-security that could be a bigger player going forward.
That's good news for FireEye (FEYE). It's a company we've looked at before. In the past month, however, shares have dropped following its earnings report.
The company reported a beat on its earnings, showing a slight loss in the most recent quarter. But with billings up 3 percent year-over-year, it's continuing to grow. And with a gross profit margin of 73 percent, it's a great space for investors in the short term.
What really held the company's performance back was a mixed guidance that it gave out following its earnings. That was enough to send shares from an uptrend to a downtrend.
But we still like the company for the long haul. Cyber security will continue to innovate, and the company is a leader in the space with a $3.5 billion market cap. To some of the largest tech names out there, that's a rounding error, and it's possible that this company could see a buyout offer in the coming years.
The offer would allow the buying company to ramp up their security, open up new sources of revenue, and also keep FireEye's products away from potential competitors. That makes the current earnings drop look like little more than a bump in the road.
Shares are a buy up to $16. We see the company continuing to perform well and move towards consistent profitability. At that point, shares could be bought out, or the company could end up being worth $10 billion or so, which would translate to a share price around $45, nearly triple from here.
For speculators, the September 2020 $17.00 calls, trading for around $1.05 right now, look like a reasonable bet on the shares recovering and moving higher from their post-earnings drop.
Small Industry Play #2: B&G Foods (BGS)
The food space is huge, with producers, processors, and some of the best-known brand names in the world. It's also home to a number of smaller plays as well, like B&G Foods (BGS).
The company has a variety of food brands, the best-known of which include Baker's Joy, Le Sueur, Cream of Wheat, SnackWell's, and Green Giant.
The space hasn't been the best place to invest in the past year, as many food companies are reporting flat or declining sales thanks to changing consumer trends and the rise of generic alternatives.
That's sent shares of B&G down nearly 48 percent in the past year, even as revenue dropped less than 4 percent and earnings fell less than 3 percent.
But, trading at 8 times forward earnings, it's looking attractive considering the portfolio of brands. And trading at 0.55 times sales and just above book value, shares are trading at a bargain price that look attractive now.
And, today's investors are getting $1.90 per year in dividends, a staggering 13.2 percent payout at this rate. With the company trading so cheaply, the dividend is about 70 percent of the company's earnings, so it's not at an unsustainable place yet.
Shares look attractive as a potential rebound play that will also give a high dividend yield. But with 53 percent of shares held short right now after such a big drop, this company could also be susceptible to a short squeeze that sends shares far higher.
We like shares up to $14.50. There are some options trades, but given the yield and squeeze potential, the shares look like both a good investment and a good speculation here.