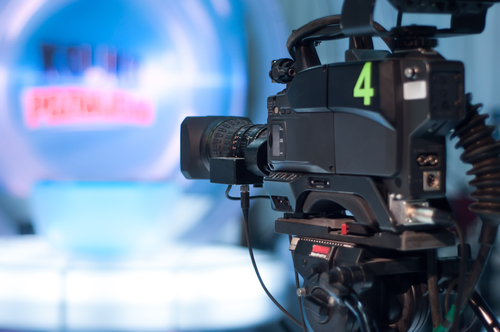 These smaller industry players could be big percentage winners next year.
Media companies are having a great year. It's easy to see why. Companies that can create unique content can typically earn a premium over companies that produce a commodity or highly competitive good.
That's why we're a fan of the space. Investors should be too. But with many big names driving the headlines this year, there are some overlooked opportunities in smaller media plays.
These companies are off their highs, but are well-positioned to have better percentage returns in the next year relative to bigger, better-known companies in the sector.
Media Play #1: Sinclair Broadcast Group (SBGI)
Special:
The Top 5G Stocks to Buy Now
Having traded as high as $66 in the past year, shares of Sinclair Broadcast Group have slid to around $34. While the company isn't quite done sliding yet, it's nearing the last low it set before moving far higher.
That could make for a fantastic swing trade in 2020.
The company has sold off thanks to a series of earnings misses in 2019, creating a major pullback in one of the otherwise best media investments of the past decade.
The company, which owns and operates over 191 broadcast television stations in 89 markets, has over 605 channels. And the company is positioning itself for future growth in the broadcasting space thanks to the sports networks it's been picking up from competitors, in addition to the Tennis Channel.
The earnings loss is attributable in part to how the company accounts for the costs of maintaining its broadcast equipment. On a cash-flow basis, the company looks much more attractive than its recent operational performance would let on.
Even with its earnings loss recently, shares trade at 15 times current earnings and just under 7 times forward earnings. We expect shares to be near the end of their decline, given their prior, panic-low of $25 set during last year's market decline.
Investors looking to get into the media space should consider shares at or under $32.00, a slight discount to where shares trade today, but likely to trigger in the next few weeks given the slide in shares. At that price, investors will be getting a dividend yield of 2.3 percent, a reasonable level to pay while waiting for a bigger rebound.
Speculators can continue to play the downward drop with a put option, but shares are getting oversold so that's a dicey proposition. Instead, speculators should try and grab the June 2020 $35 calls at or under $3.50, a slight discount from the current bid/ask spread around $3.95. At that price, speculators will be able to control 100 shares and bet on a rebound without paying more than 10 percent of what they'd pay right now to get shares.
Media Play #2: World Wresting Entertainment (WWE)
World Wresting Entertainment, the giant behind the WWE, among other brands, has had a tough year. Shares are down 15 percent in the past year, far lagging the market's rally.
Shares have slid even further lately following an earnings miss and a warning from management that costs will rise. The company still makes a substantial amount of its revenue from selling the rights to its products to others, a great business model that ensures a high profit margin when things are going well. While the international expansion of WWE has been slower than expected, it's still a market with a lot of future potential.
The company's new TV revenue profile, coming into play next year, should also move earnings higher. With expectations low, but with earning expected to rise, investors who buy now are in great shape to profit from future trends. Best of all, the company has relatively little overall debt on its balance sheet, especially when looking at the cash on the books. This is a company that can get through this period of growing pains before heading higher.
Shares are a buy up to $63.00. At that price, investors will get a 0.75 percent dividend yield.
Speculators betting on a rebound in 2020 should look at the July 2020 $75 calls. If shares get back to their old high near $100, these options could be worth as much as $25 per shares, well above the $4.65 they go for right now. While that kind of extreme move may not happen, a rebound rally could still deliver high-double or low-triple digit gains for a relatively low cost.