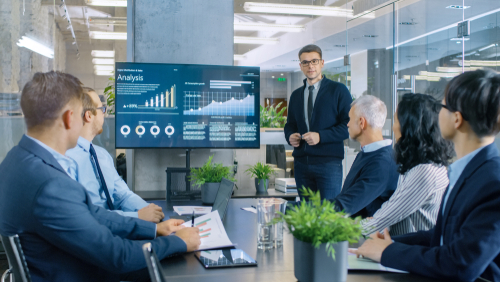 Follow the smart money for market-beating profits.
Hedge funds are often some of the smartest players in the room, and usually the biggest. With their deep pockets, they can take controlling stakes in smaller companies… but many funds also build holdings in large, well-established firms as well.
Those holdings tend to outperform the overall market by at least half a percent per year, an outperformance that adds up over time. Following this "smart money" of the investment world can give you an edge over other investors.
(ALERT) Google Just Poured $4 Billion Into THIS…

Companies all over the world are funneling as much money as they can into what Bill Gates calls, "the holy grail" of modern technology.

It's fresh out of a highly secretive lab in Boston, Massachusetts, and it's poised to make early investors billions.

It's NOT cannabis. It's NOT bitcoin, or some other blockchain-related technology. It's NOT 5G.

And it could be bigger than all of those. You could be looking down the barrel of 5,000% profits or more.
Let's look at two large-cap companies where hedge funds are overwhelmingly bullish—but also companies that have further upside in shares, and where options traders can beat the pants off the pros who run hedge funds.
Hedge Fund Pick #1: Microsoft (MSFT)
With a $1 trillion market capitalization, it's clear that Microsoft (MSFT) is doing more than just selling copies of the latest version of Windows. Although the company doesn't have the same cool factor as Apple or the "what will they do next" vibe of Amazon, the company has thrived in the 21st century, moving past its roots as a player for the PC era.
In fact, the company has quietly built out a diversified series of tech holdings over the years, from software and video games, to increasingly cloud-computing with its Azure division. The company's profit margin is over 31 percent, and it's continuing to grow revenues at over 13 percent per year and earnings at over 20 percent —huge numbers from an already-monster-sized company, and improving ones at that.
So even though shares of the company are riding high, chances are they'll keep heading higher in the future thanks to these trends. It's no wonder that over 128 hedge funds with the best long-term investment success record have shares of the technology king, and why 70 of them have the company as a top 10 holding.
Investors looking to buy Microsoft today will pay pretty close to all-time highs, but with a bright future ahead, shares aren't too expensive up to $142.00. The company does pay a dividend, although the current yield of 1.4 percent is a little stodgy, the company can make up for it on the growth factor.
Given how shares have beaten the market handily this year with a 30 percent rally, speculators may want to consider buying a call option to play that trend further.
A January 2021 $150 call option, trading for around $10.55, or $1,055 per contract may sound expensive, but compared to buying 100 shares, it's a cheap way to bet on a further move higher. A move to $180 would lead to an option worth $30 at expiration over a year from now for a clean triple—that's how you use the smart money of a hedge fund to get a hedge fund-like return!
Hedge Fund Pick #2: Alibaba Group Holdings (BABA)
Alibaba (BABA), the Chinese-based internet retailer, essentially the country's Amazon, has been holding up well despite a significant slowdown in economic growth there. With over 1 billion potential customers and with an economy with one of the world's fastest—and largest—growing middle classes, it's a play on Chinese demographics that can reward investors hugely in time.
That's why it's no surprise that 97 of the top hedge funds have shares, and 54 of them also have the company as a top 10 holding. Although shares are up 24 percent in the past year, the company's rapid growth is moving valuation from 50 times earnings to just 20, as earnings have grown by triple-digits in the past year and revenues have risen by over 42 percent.
With shares trading as high as $195 in the past year, traders have a chance to buy a great name below its high point, given their current price around $174. Shares are a buy up to $175.
Although Chinese stocks can be volatile, this is another company on a long-term upward trend where buying a call option can provide a market-trouncing return. The January 2021 $175 calls, essentially right at-the-money, are trading for around $26.00, or $2,600 per contract.
That's still cheap compared to buying 100 shares outright, and a move back toward the old high right now should move dollar-for-dollar as the option goes in-the-money. A push to $250 in shares would triple the value of the options to $75 at expiration, more than a year down the road… a price achievable with a potential trade deal!