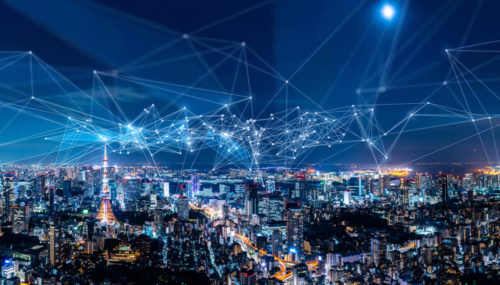 These tech names are coming back into favor.
Typically, technology companies help lead the market to new highs. That's because these firms are capable of rapid, disruptive growth.
While that's been true generally, in the past two years technology companies have been lagging while value-oriented companies have taken a turn as market leaders.
Nothing lasts forever, however, and buying some tech companies still well off of their most recent highs of past years will likely give investors great returns in the next rotation.
While there are a number of technology companies that fit this pattern, two stand out as potential winners here. As with any tech play, the reward potential is large… but it's also going to be a lot more volatile.
Special:
The Top 5G Stocks to Buy Now
Undervalued Tech Play #1: Micron (MU)
A major manufacturer of computer chips, particularly in the DRAM (dynamic random-access memory) space, Micron Technology (MU) is a stealth growth play that still has some growth potential behind it.
Shares of the company have been a poster child for the weakness in technology for the past few years, as Micron's large exposure to China have led to periodic fears that the business will be permanently crushed.
However, that hasn't been the case. Earnings may have dropped, but with the expectation of that drop, the company is still bringing in over $23 billion in revenue per year and has beaten expectations. And with a 27 percent profit margin, it goes to show the strength that technology companies have over industrials, financials, commodities, and other sectors that are lucky to break to a 10 percent profit margin.
And with company management focusing on improving the company supply chain, the company is less likely to be caught in any trade-related headwinds.
Add all of these factors together, and it's clear shares should be heading higher. Add in a resolution to trade fears, and shares could do even better.
Right now, Micron shares are cheap at 9 times earnings—and remember, that's after revenue has been dropping. A company valuation in line with the market would mean a share price increase of over 150 percent from here.
While that won't happen overnight, it does point to higher share prices down the line, and with it the chance for shares to make new all-time highs along the way.
Investors should buy here, under $48 per share. While the company doesn't pay a dividend, its growth prospects and share price appreciation potential should more than make up for the risks.
Speculators may enjoy the July 2020 $50 calls. Trading just over $5.50, the option is a way to pay a bit over 10 percent of the cost of buying 100 shares to borrow them and bet on a further upside instead.
Undervalued Tech Play #2: Square (SQ)
Payment processing company Square (SQ) is another tech name that can't seem to catch a break in this market. But the company is taking the right steps for future profitability, making now an ideal time to buy.
In the most recent quarter, the company shed one of its underperforming business units, Caviar, and did better-than-expected on earnings and revenue. They even raised their guidance.
The big win was the growth in subscription services, a more consistent way for a company to make a profit than a transaction-based service. In both their traditional digital payment system and their peer-to-peer payment model, all the signs are pointing to continued growth potential.
Yet shares are still well off the company's all-time highs, and have only moved 4 percent higher in the past year, underperforming the S&P 500 by about 14 percent.
But with the company finally closing in on profitability, and with the company having no net debt, it's clear the company's growing pains are still rooted in growth. Earnings rose by nearly 50 percent in the most recent quarter, and revenue rose over 44 percent. Once profitable, the company is likely to get on the radar of investors looking for profitable plays in the tech space.
Shares of the company look like an attractive buy under $75, but can still be had for under $70 today.
Speculators betting on a move higher should look at the June 2020 $70 calls, which are near-the-money and could start moving dollar-for-dollar higher with shares in a rally. While a bit pricey around $8, or $800 per contract, a move back to all-time highs in shares could give speculators here a double.