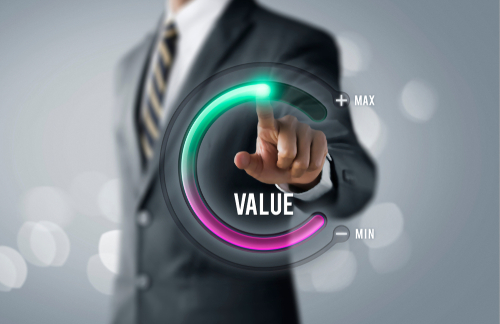 These companies aren't near all-time highs in today's heated market.
As the stock market continues with its melt-up boom, most stocks are at 52-week highs.
Many growth names have gotten in on the trend in recent weeks, but there are still a few value plays out there.
These plays offer investors better upside going forward, and are companies that tend to hold their own when markets sell off. By buying these value plays now, investors can get in on great companies under all-time highs.
Value Play #1: McDonald's (MCD)
As one of just two companies in the Dow Jones Index to gain in the otherwise bearish year of 2008, McDonald's is a value play with deep defensive roots.
But it's also a play that tends to trade sideways for a year or two, then have a big rally, and then will tend to trade sideways for a long time again.
That may be the case here. Shares approached $200 early in 2019, then slid to the $200 range, and even a bit under. The company's board of directors also kicked out the company CEO for having a relationship with a subordinate, a move that further impacted shares in the short haul.
With shares underperforming the stock market by 12 percent in the past year, the fast food giant is still in great shape operationally. While fast food is seen as a low-margin affair, McDonald's sports a 28 percent profit margin. And it managed to grow revenue slightly last year, even as the strong economy sent many consumers to higher-end dining fare.
We like shares up to $213, about $10 off the company's all-time high. We see the company continuing to find ways to improve profit margins, and grow revenues. There's still some value as the market is still skeptical over the company's new CEO.
As shares have finally started to join the market rally in the past few weeks, the timing also looks great for speculators. The June 2020 $230 call, going for around $2, or $200 per contract, looks like an inexpensive way to bet on shares moving higher in the next few months. Look for some mid-to-high double-digit gains on this value play there.
Value Play #2: ExxonMobil (XOM)
Energy companies have struggled recently, with the space being one of the few sectors to not only lag the market last year, but show losses on average. And that's in spite of oil prices going up in 2019.
The problem? Production is high. While that's good news for the U.S., which has started to export oil for the first time since the 1970's, the slow global economy doesn't need our excess supply right now.
With many smaller names in the space scaling back on exploring and drilling for new wells, the trend will eventually shift. The natural gas space, which typically sees peak winter demand around this time, has instead seen prices slide to $2, a sign of the supply glut on the market.
While natural gas many not turn around anytime soon, major integrated oil and gas companies, with the resources to handle prolonged market drops, are in a great spot right now. Their prices are depressed, and those that pay dividends are offering above-average yields right now.
One winner from this space is ExxonMobil (XOM). Shares are down 6 percent in the past year, and revenues slid 14 percent thanks to low prices for oil and natural gas. At $67 per share, the company is within about 2 percent of being at a 52-week low, a stark contrast to the rest of the market right now.
Yet this energy giant reversed several years of declining loss reserves last year with some strategic acquisitions, a fact that made us wary of the stock last year.
And the company has one of the better balance sheets in the industry, giving it the most flexibility should energy markets remain lower for longer.
Best of all, the low share prices and low expectations make this a value play with some sizeable upside potential. Shares yield just over 5.1 percent right now, and Exxon has repeatedly raised the dividend over time.
With oil and gas prices expected to be low for the foreseeable future, any shock to the energy market will likely send prices higher, not lower. That makes this out-of-favor value play one that has solid upside potential as well.
For speculators, the July 2020 $70 calls look like a reasonable trade that could make some short-term cash. At about $1.55, or $155 per contract, they could surge higher on any geopolitical fear that ripples through the market in the next few months, or simply benefit from any rise in energy prices from changes in supply or demand.