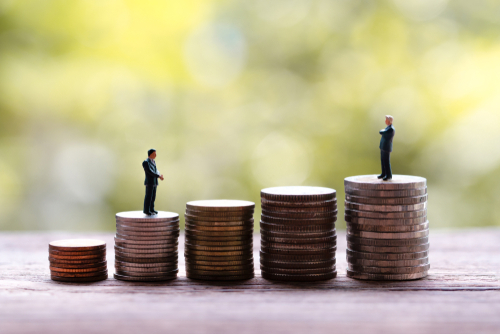 Traders can still get market-beating ideas from great investors.
Warren Buffett will go down as the greatest investor in history. His track record, coupled with folksy wisdom about investing, has made it easy for everyday people to get involved in the wealth-creating power of the stock market.
But like everyone else, Buffett is only human. He sometimes gets it wrong.
And sometimes investors get a chance to buy into companies owned by Buffett at a better price—or with better upside potential.
Warren Buffett Play #1: Kraft-Heinz (KHC)
Buffett doesn't make mistakes often, but when he does, he usually waits for the eventual recovery. In that respect, the mistake isn't in buying a company, but in buying too soon.
That was the case with warrants Buffett bought on airline companies with the 1980's, and more recently with Kraft-Heinz.
The merger of two already big food giants, the final company is huge. Yet with faster-changing consumer tastes and weak earnings as a result, investors soured on shares, sending them below Buffett's buy price.
Yet the investor has said he would hold onto his stake for now, although he wasn't looking to add more. In the past, this pattern of holding onto a current loss tends to fare well, as those losses tend to become gains over time as sentiment improves and dividends keep getting paid out.
We see that continuing with Kraft-Heinz shares today. While the company's multi-billion-dollar write-offs sounded scary, it was simply reflecting that the merger of the two companies was too expensive at the time. For today's investors, looking forward, things are less dire.
Thanks to shares dropping 37 percent in the past year, they're now trading at 12 times earnings, a solid multiple for a branded food conglomerate. And while revenues are still down, earnings have gone up in the most recent quarter, a bright spot for investors.
And with shares paying a 5.4 percent yield after a modest cut last year, investors will be well paid to wait for a recovery from here—with a chance for 30-40 percent returns or better in the next year if the company stops making write-downs and sentiment improves.
We see shares as a buy up to $32.50.
Options traders could see solid gains with the January 2021 $35 calls. Currently trading for around $1.40, a big move higher in shares could lead to a double from here. Past options trades on the company have fared well.
Warren Buffett Play #2 Bank of America (BAC)
The big banks have a lot going for them right now. The economy is moving at a reasonable pace, and the banks have been getting regulatory approval to raise dividends and share buybacks.
It's no surprise that Buffett owns a number of big banks. While each have their considerations, and we've looked at them elsewhere, in terms of safety and profitability, Bank of America looks like the best bet here.
Warren Buffett first bought Bank of America by buying warrants yielding 10 percent, which he since converted.
Individual investors can't get that kind of return to begin with. But Buffett earned a high income and the bank got Buffett's reputation behind it at the tail end of the financial crisis. That value has translated over into a $33 billion stake in this bank
Today, however, the real value is the fact that Bank of America is aggressively buying back shares, which should improve its share price over time. It's the second-largest share buyback program going on right now, far behind that of another Buffett holding, Apple (AAPL).
Last year, dividends and buybacks at the bank totaled a staggering $34 billion, or just over 10 percent of the company's market cap. In theory, if the bank could keep that level up and focused just on buybacks, it could take itself private in about a decade!
But even without that massive tailwind likely to send shares higher, the bank sports a nice 31 percent profit margin and a 2 percent dividend yield right now.
Today's shareholders can get a reasonable return from the underlying business, with the added benefit of a reduced share count increasing their holdings automatically.
We like shares up to $35.
Options traders may like the January 2021 $40 calls. These options trade for around $1.08, and have nearly a year to play out and see shares move higher over the next year. It's an inexpensive way to bet on the power of strong earnings and profits, combined with a massive share buyback.