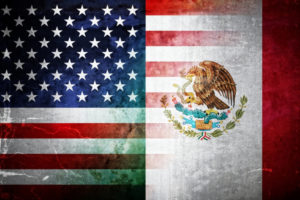 Tensions between the two countries rise, sending markets in turmoil
Tired by decades of broken promises and record-high border crossings, President Trump announced a series of tariffs against Mexico until the country works to fix its problem with illegal immigration to the United States.
Under the policy, tariffs will go into effect starting on June 10th, with a starting rate of 5 percent. They will ratchet up to a maximum of 25 percent by October.
Special:
The Only 8 Stocks You Need for 2020
Besides impacting the overall stock market, the tariffs will likely hit some sectors harder than others. The biggest loser will be the automotive space, as most automobile parts created in North America are done so in Mexico. Estimates are about 35 percent of all auto exports come from south of the border.
Other areas impacted by tariffs with Mexico include oil. The nation has a sizeable energy industry, and the United States is one of its largest exports for its oil production.
Finally, food and drink, particularly spirits, are a major source of trade between the two countries.
The surprising move, coming off of the earlier China tariffs this week, show that President Trump has no qualms about fighting multiple trade war fronts at the same time.
Stocks were off about 1.2 percent on the day. Oil fell over 5 percent on fears of reduced global trade. Gold prices popped 1.3 percent to close over $1,300 per ounce.