The news was unsurprising. A regulator levied a large fine against a tech company, as NPR reported,
"The European Commission is hitting Google with a fine of 1.49 billion euros (some $1.7 billion) for "abusive practices" in online advertising, saying the search and advertising giant broke the EU's antitrust rules and abused its market dominance by preventing or limiting its rivals from working with companies that had deals with Google.
The case revolves around search boxes that are embedded on websites and that display ads brokered by Google. Those ads are powered by AdSense for Search — a business unit within Google that allows websites and apps to make money on search ads, much as Google does on its main search page.
But for years, AdSense contracts also gave Google a wide range of control in how the ads work, the EU says. Google included the conditions in contracts that covered how its brokered ads would appear in search tools that are commonly embedded on newspaper sites, blogs and travel companies.
No. 1 Commodity Stock to Buy in 2020

Hint: It's not silver, platinum or any other precious metal. It's not aluminum, nickel, iron ore or lithium, either.

But without it, we couldn't make airplanes, automobiles, batteries, boats, cosmetics, computers, surgical tools or smartphones.

Yet this metal could soon experience the greatest supply crunch in history … which could launch its price to levels never seen before.
The conditions evolved over time, from exclusivity clauses in 2006 to "relaxed exclusivity" in later years. But the practice still damaged competition, European regulators said, noting that later requirements let Google control how its rivals' search ads would appear — including the size, color and font they used.
"This is illegal under EU antitrust rules," said EU Commissioner Margrethe Vestager, who is in charge of competition policy. "The misconduct lasted over 10 years and denied other companies the possibility to compete on the merits and to innovate — and consumers the benefits of competition."
She added that in addition to the fine, the ruling means "anyone who has suffered damage because of Google's behavior can also claim compensation from Google through national courts."
The fine was announced on Twitter: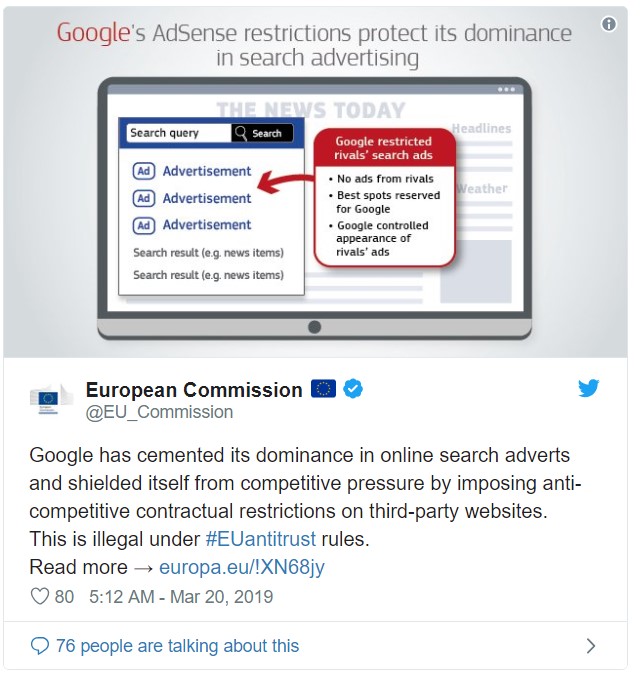 Source: NPR
Google stopped using the exclusive contract clauses in 2016, when the EU objected to them. This week, the company says it agrees with the commission's belief that healthy markets have wide benefits.
"We've always agreed that healthy, thriving markets are in everyone's interest. We've already made a wide range of changes to our products to address the Commission's concerns," said Kent Walker, Google's senior vice president of Global Affairs. "Over the next few months, we'll be making further updates to give more visibility to rivals in Europe."
It's the third multi-billion-dollar penalty the EU has recently laid on Google. Last summer, the European Commission issued a $5 billion antitrust fine for forcing Android phone-makers to install the Google search app and the Chrome Web browser.
And in 2017, the EU fined Google $2.7 billion after finding that the company had used its market-dominating search engine to drive people toward another Google product, its shopping service.
Both Vestager and Walker mentioned those earlier cases, with each of them saying Google has changed how it does business as a result.
In levying the latest fine, the EU noted that the roughly $1.7 billion represents "1.29 percent of Google's turnover in 2018." It adds that the fine was calculated based on Google's search revenues in the EU market.
As for what the EU will do with the $1.7 billion it gets from Google, the commission says the fine will lower member nations' contributions to its budget.
The chart below shows these fines haven't affected the shares very much, if at all.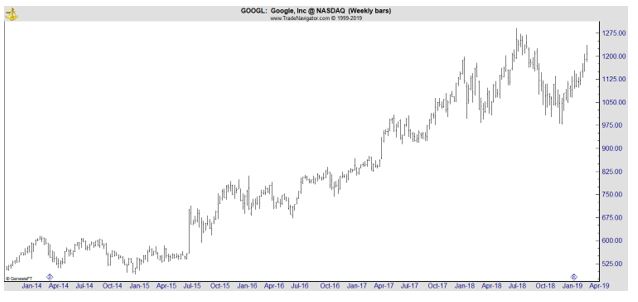 Is Facebook Next In the Line of Fire?
Facebook (Nasdaq: FB) has been in the news quite a bit in recent months. With an upcoming election in Europe (an EU election in May), some of the complaints against Facebook could be familiar. The Guardian reports,
"Facebook has repeatedly withheld key data on its alleged efforts to clamp down on disinformation ahead of the European elections, the EU's executive has said.
Mark Zuckerberg's company has been under fire from the European commission for failing to provide it with the "hard numbers" to prove that it was living up to promises made in a voluntary code of conduct.
The commission has also complained that the world's largest social network had, despite its pledges, only set up "fact checkers" – with the job of scrutinizing information shared on the site – in eight of the EU's 28 member states.
The company's vice-president of global affairs and communications, the former deputy prime minister Nick Clegg, had claimed in January that Facebook had made mistakes in the past but was now entering a "new phase of reform, responsibility and change".
In a sign of frustration at the lack of hard evidence to back up that claim, a number of failures by Zuckerberg's firm will be laid out in the second monthly EU update on progress made by social media signatories – Facebook, Google and Twitter – to a new code of conduct.
Under the EU code, the web firms are encouraged to disrupt revenue for accounts and sites misrepresenting information, clamp down on fake accounts and bots, and give prominence to more reliable sources of news while improving the transparency of funding of political advertising.
EU sources said the sector was not raising its game but that Facebook was by far the worst offender of those being assessed, offering only "patchy" information on its efforts. "It is very difficult for us to see if they are doing what they should be doing," said a source.
The EU's security commissioner, Sir Julian King, and digital economy commissioner, Mariya Gabriel, writing in the Guardian ahead of publication of the progress report, warn that the companies have only "fallen further behind" since last month's first report.
They said: "The results last time fell short of expectations – so we called on the platforms to go further and faster in their efforts to tackle disinformation. Sadly, despite some progress, rather than improve, they have fallen further behind. The lack of hard numbers is particularly worrying.
"Facebook has again failed to provide all necessary information, including any data on its actions in January on scrutiny of ad placements or efforts to disrupt advertising and monetization incentives for those behind disinformation."
The EU's executive arm, which is threatening to bring in regulation on disinformation unless the social media companies fall into line, added that it welcomed Facebook's recent decision to "share more information about political advertising on its platform with so-called 'good faith' researchers and organizations working on increasing transparency for the public".
But "they still need to live up to the standards we are asking of them – and that they signed up to", the commissioners warned. "It is vital that the platforms treat EU member states equally and ensure that any relevant tools are available across the Union."
FB could also be facing billions of dollars' worth of fines from the EU. But, unlike Google, the stock of FB is under pressure.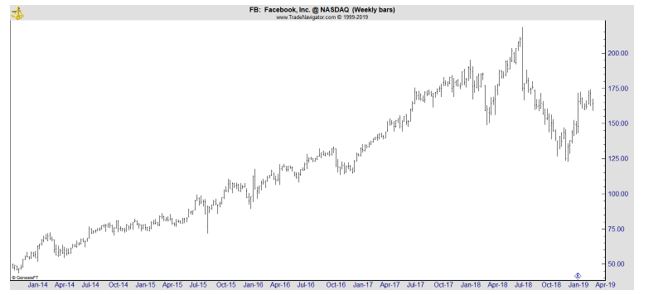 It could be difficult to reach new highs as regulators around the world zero in on business practices. While FB could do well in the long run, it is likely there are better investment options in the short run.