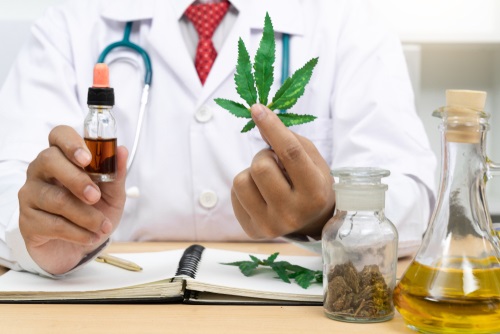 Combine news developments with this key indicator to find winning trades.
Marijuana stocks are volatile by nature. Every time a new state legalizes, there's a flurry of investment activity in the space—followed by a drop in shares when immediate, large profits fail to materialize.
Like any sector, the cannabis plays can go in and out of favor with the overall market. When they're in favor, that's when you want to be already positioned to take profits. It's when the sector is out of favor that you want to buy.
That's because the sector has long-term potential, but it also attracts a lot of traders, and consequently makes a lot of noise without necessarily giving investors the best signal for when to buy.
Right now, investors are keeping their eye on both factors. And things are starting to look bullish.
In late September, the House of Representatives passed the Secure and Fair Enforcement Banking Act (SAFE). While it doesn't legalize pot use nationally, it does allow banks to do business with companies in states where marijuana use is legal.
That's good news for the $12 billion legal industry, as access to the financial system gives these companies access to the capital they need to expand operations and get financial services more cheaply than they have in the past.
And if capital can flow more easily to these companies, their profitability is likely to improve as well, which in turn should be good for their share prices.
Yet you wouldn't know that looking at shares of these companies—most have declined in recent months with no sign of an end in sight. Part of the problem is that the industry, being small and dynamic, has plenty of players—some of which aren't profitable and likely won't be.
But some of the more established players are starting to take advantage of low prices to make acquisitions. Others are going public, to raise capital to fund further operations.
Consolidating the industry into smaller, but more profitable players, is a classic development that's occurred in every industry from personal computers to the automobile. It's a sign that the industry is now reaching a buy point.
What should investors look for? They should look for companies with big potential growth opportunities whose shares are also oversold on a technical basis.
Specifically, one indicator to watch on the pot companies is the relative strength index or RSI. This indicator tells us whether or not a firm is overbought or oversold on the market, using a 1-100 index.
A reading around 50 says that a company's shares are being relatively equally bought or sold. A reading up to 70 gets into overbought territory, where buyers are swamping sellers. A reading down into the 30's indicates the opposite, where sellers are overwhelming buyers.
These kinds of imbalances in RSI tend to right themselves in time, so taking advantage of them is a great way to profitability trade in and out of pot stocks—or know where to buy shares if you're just following an buy-and-hold strategy.
Ultimately, these are companies that will trade like bigger, more established names in corporate America. But for now, with issues like legalization still on the table, they're also great trading entities, and a tool like RSI gives investors a simple buy or sell signal.
For example, Canopy Growth Corporation (CGC), has seen its shares fall from $60 back in April to under $23 today, a decline of more than 50 percent. Its current RSI, around 38, tells us that it's near oversold levels—and looking at the RSI over the prior few months, when RSI dipped under 30, tells us that shares might finally be ready to move higher. A move back to $50 from here would more than double an investor's profit.
And Cronos Group (CRON), just saw its RSI dip under 30 into oversold territory as shares slid under $9.50. With shares as high as $25 in the early part of 2019, the company has a long way to go to get back to old highs—but the end of the decline may be in sight with the oversold reading in shares.
Bear in mind—a marijuana stock could get oversold, pop 25 percent or so, and become overbought, so if you're just looking to trade, be mindful of how rapid the change can be!
In short, what you need to know about pot companies are twofold: When positive developments that further legalization occur, and when the pot stocks are oversold or overbought on a technical basis so you know when to respectively buy and sell.