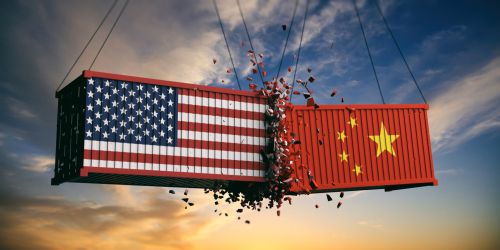 Weaker yuan makes U.S. dollar relatively stronger.
Stocks posted their worst trading day of 2019 on Monday, as China allowed its currency, the yuan, to devalue under 7.05 per U.S. dollar, its lowest level in more than a decade.
The move is to make the country's currency weaker relative to the dollar, which gives it an advantage over other currencies in international trade.
That makes the move a preemptive retaliatory strike against the increased tariffs proposed by President Trump scheduled to go into effect September 1st, and may even be a sign that China has given up on a trade deal with the United States for the foreseeable future.
In addition to the devaluation, China has instructed its agents to stop purchasing U.S. agricultural goods. China has been a large buyer of commodities such as corn and soybeans to feed its growing population. The U.S. is looking at a weak crop season this year thanks to heavy rains and flooding, but the lack of foreign buyers still sent the price of these commodities down.
Action to take: We have seen multiple escalations and de-escalations of trade fears in the past few years. Given the size of the market selloff, we would look for buying opportunities in great companies with little to no exposure to trade with China to buy on a large enough pullback—say at least 10 percent off of all-time highs.
5G Stock CRUSHES Earnings!!

Wall Street is loading up on shares of one 5G SuperStock (26 million shares purchased).

Why?

Because the stock brings in more cash than IBM, Facebook and even Google! Yet it trades for just $3.