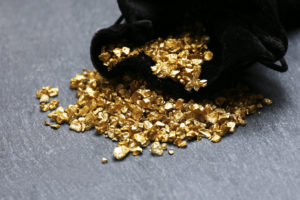 After lagging year to date, the metal surges higher as Fed actions indicate weak economy.
Thanks to a combination of economic and trade uncertainty, potential weakness in the U.S. dollar, a dovish Fed, and moderate inflation, gold prices have been heading higher in recent weeks.
Gold prices closed last week over $1,340 per ounce, managing to hold their gains during a strong week of stock market performance.
Special:
Urgent: Three 5G Stocks to Buy ASAP
With rising expectations for the Fed to now cut interest rates later in the year, gold prices may rally further on perceived economic weakness.
Gold prices peaked in 2011 over $1,900 per ounce on fears of potential inflation and a quick return to the Great Recession of 2007-2009. When that failed to materialize, prices plummeted. Since early 2016, however, when gold got as low as $1,050, prices have trended higher towards the $1,350 range they are at today.
Action to take: Gold works as a hedge against market fears, political uncertainty, and unexpected bouts of inflation. As such, it always serves a role in any portfolio for diversification and hedging purposes.
Acquiring and storing physical gold has a cost to it above the mere price of the metal, so traders may want to look at the SPDR Gold ETF, GLD, up to $130.00. GLD is designed to track the price of gold, but investors will not have access to the physical metal itself.
3 Red-Hot 5G Stocks: The Death of Comcast Is Near

New 5G technology will be 100x faster than your home internet, and Comcast is worried. We've identified 3 stocks that are set to produce returns as high as 3,217%.

Click here to see for yourself before it's too late. Get in early and own these 5G stocks on the cheap.