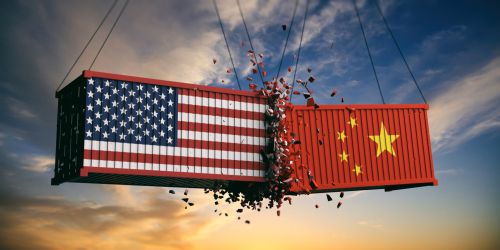 Stocks rally and gold declines heavily on proposed truce.

The Dow and S&P 500 Index hit record all-time highs during early trading on Monday. Stocks were fueled by reports over the weekend meeting between presidents Trump and Xi at the G20 meetings.
The two leaders announced a truce in the current trade war, with a more detailed proposal to come in the near future.
Special:
Urgent: Three 5G Stocks to Buy ASAP
As a result, most sectors rallied.
Technology companies, particularly in the semiconductor space, were some of the best performers on Monday.
The big loser of the day was the fear trade, gold. The metal fell about 1.4 percent, dropping under $1,400. 10-year Treasury yields, also a sign of capital flowing out of stocks and into bonds, was little changed just around 2 percent. Cryptocurrencies, after their big volatile moves, were slightly down.
While a truce has been declared, how long it will last is anyone's guess. China can wait for a new and more pliable American president.
The truce also came with the concession that Huawei will be allowed to do business in the United States. As a concession on the other side, China agreed to massive purchases of U.S. agricultural goods. For the time being, the best certainty is continued uncertainty.